In California, water is a case study in extremes, exacerbated by a fast changing climate. Periods of epic drought followed by torrential precipitation are the new normal, making it harder to manage water supplies and protect the state's ecosystems, communities, farms, businesses and infrastructure.
From 2011-2017, California experienced the worst drought recorded in the past 1,000 years, with over 90% of the state experiencing severe conditions during the height of the drought, and costs to the agriculture industry totalling $3.8 billion in 2014-2016 alone. At the height of the drought, California passed the Sustainable Groundwater Management Act (SGMA), which requires farms and communities to bring their overdrafted groundwater basins into balance by 2040 or 2042. Research suggests that California may need to fallow over 500,000 acres of irrigated farmland to comply with SGMA. California's $50 billion a year agricultural industry will continue to strain freshwater resources without prudent water management measures.
Companies and investors have a unique opportunity to respond to water risks in their California operations and supply chains, advocate for sustainable and resilient water policies, engage with SGMA implementation efforts and ensure sustainable management of the Golden State's stressed and unpredictable water supplies.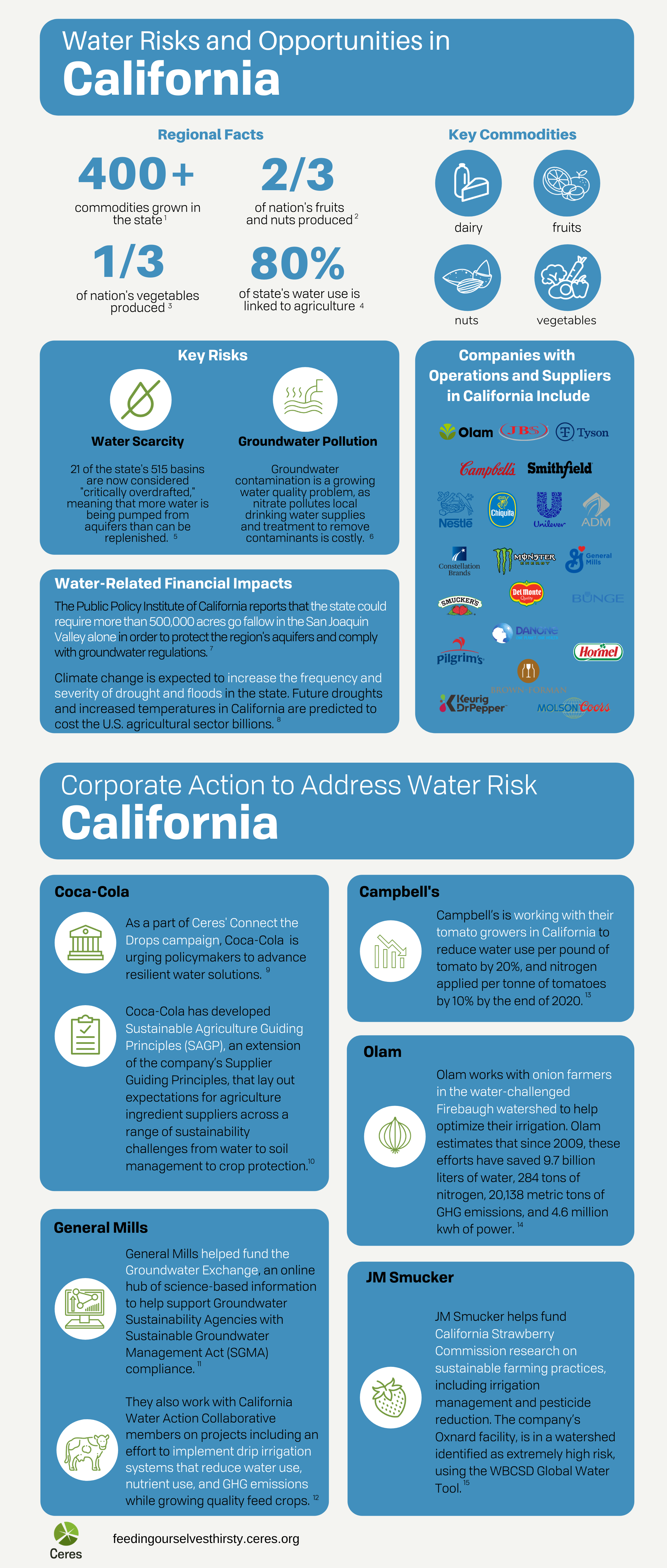 [1, 2, 3] "California Agricultural Production Statistics." California Department of Food and Agriculture, n.d., https://www.cdfa.ca.gov/statistics/.
[4] "Agricultural Water Use Efficiency." California Department of Water Resources, n.d., https://water.ca.gov/Programs/Water-Use-And-Efficiency/Agricultural-Water-Use-Efficiency.
[5, 6] "Just the Facts: Groundwater in California" Public Policy Institute of California (PPIC), n.d.,  https://www.ppic.org/publication/groundwater-in-california/
[7] Bloch, Sam. "California Must Abandon 535,000 Acres of Prized Farmland to Meet Water Conservation Goals." The New Food Economy, 28 Feb. 2019, https://newfoodeconomy.org/california-san-joaquin-valley-farmland-groundwater-aquifer-drought/.
[8] López-Hoffman, Laura, et al. "America's 2019 Harvest Is Already in Trouble." The Hill, Capitol Hill Publishing Corporation, 29 Mar. 2019, https://thehill.com/opinion/energy-environment/436500-americas-2019-harvest-is-already-in-trouble.
[9] "Connect the Drops." Ceres, n.d., https://www.ceres.org/initiatives/connect-the-drops.
[10] "Sustainable Agriculture Guiding Principles." The Coca-Cola Company, 7 Oct. 2013, https://www.coca-colacompany.com/press-center/company-statements/sustainable-agriculture-guiding-principles.
[11] "The Groundwater Exchange: A New Online Platform Consolidates Groundwater Resources and Tools." Water in the West, Stanford University, 18 Sept. 2018, http://waterinthewest.stanford.edu/news-events/news-insights/groundwater-exchange-new-online-platform-consolidates-groundwater.
[12] "Actions." California Water Action Collaborative (CWAC), n.d., http://cawateraction.org/actions.
[13] "Campbell Soup Company 2019 Corporate Responsibility Report." Campbell's, 21 Mar. 2019, https://www.campbellcsr.com/_pdfs/2019_Campbells_CRR.pdf.
[14] "Survival of the Driest – Olam's Innovative Onion Breeding Program." We Mean Business, 26 Aug. 2018, https://www.wemeanbusinesscoalition.org/blog/survival-of-the-driest-olams-innovative-onion-breeding-program/.
[15] "2018 Corporate Responsibility Report." The J.M. Smucker Company, n.d., https://jmsmucker.gcs-web.com/static-files/5fb271b7-82f1-4c99-b584-06f1ff3e3faf.