The $5 trillion global food and agribusiness sector operates at the center of the world's growing water crisis. Highly dependent on large volumes of cheap water supplies, food companies are among the first to feel the heat, as rising average global temperatures and shifting weather patterns make fresh water more scarce and agricultural production more volatile.
For an industry that uses more than 70% of the world's fresh water to grow crops, feed livestock and process ingredients, these are undeniable threats. The U.N. projects that global demand for water will increase by 20-30% by 2050 in order to meet the food needs of a projected population of 9.8 billion. A recent MSCI analysis of food companies in its All Country World Index (ACWI) found that $415 billion in revenue may be at risk from lack of water availability for irrigation or animal consumption, while $248 billion could be at risk from changing precipitation patterns affecting current crop production areas.
Food companies are not only at risk due to water scarcity, they are also responsible for it. Agriculture is rapidly draining aquifers in many regions of the world, and meat production is one of the biggest polluters of watersheds globally. In the United States, both drought and flooding reached historic proportions in 2019. As the Colorado River suffered its 20th year of drought conditions, approximately 80% of annual withdrawals were used to irrigate 15% of the nation's farmland. This spring, extreme flooding of the Mississippi River basin severely damaged Midwestern communities and global supply chains. Hypoxic "dead zones," which now form annually at the mouths of watersheds critical to crop production, reached record sizes even as the Trump administration repealed limits placed on the use of polluting chemicals near rivers, streams and wetlands. 
As evidenced by the increase in scores in this edition of the benchmarking, food companies are taking these risks more seriously. However, many simply aren't moving quickly enough to fortify their supply chains, and the financial fallout of these risks has become increasingly evident: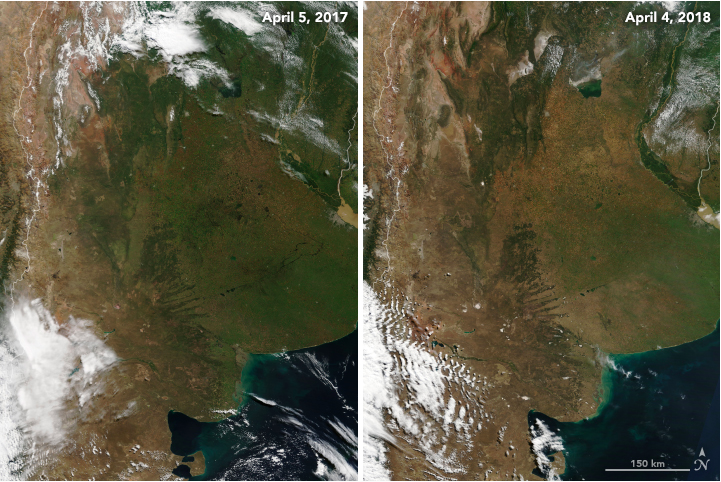 Drought in Argentina: Pictured, Argentina before and after a drought throughout the summer of 2018. The drought reduced the global supply of soybeans, one of the primary commodities used for livestock feed. Source: Earth Observatory, NASA.
Olam International reported a 36% decline in Q2 profits from Q2 2017, citing a 14.8% fall in EBITDA within its edible nuts, spices and vegetable ingredients segment as its peanut farming business suffered drought conditions in Argentina.
As a result of the drought and global trade tensions, Tyson Foods cited an $89 million increase in feed costs as one reason for declining operating income throughout fiscal 2018. Sanderson Farms saw its third-quarter feed costs rise 5.8% per pound relative to Q3 2017.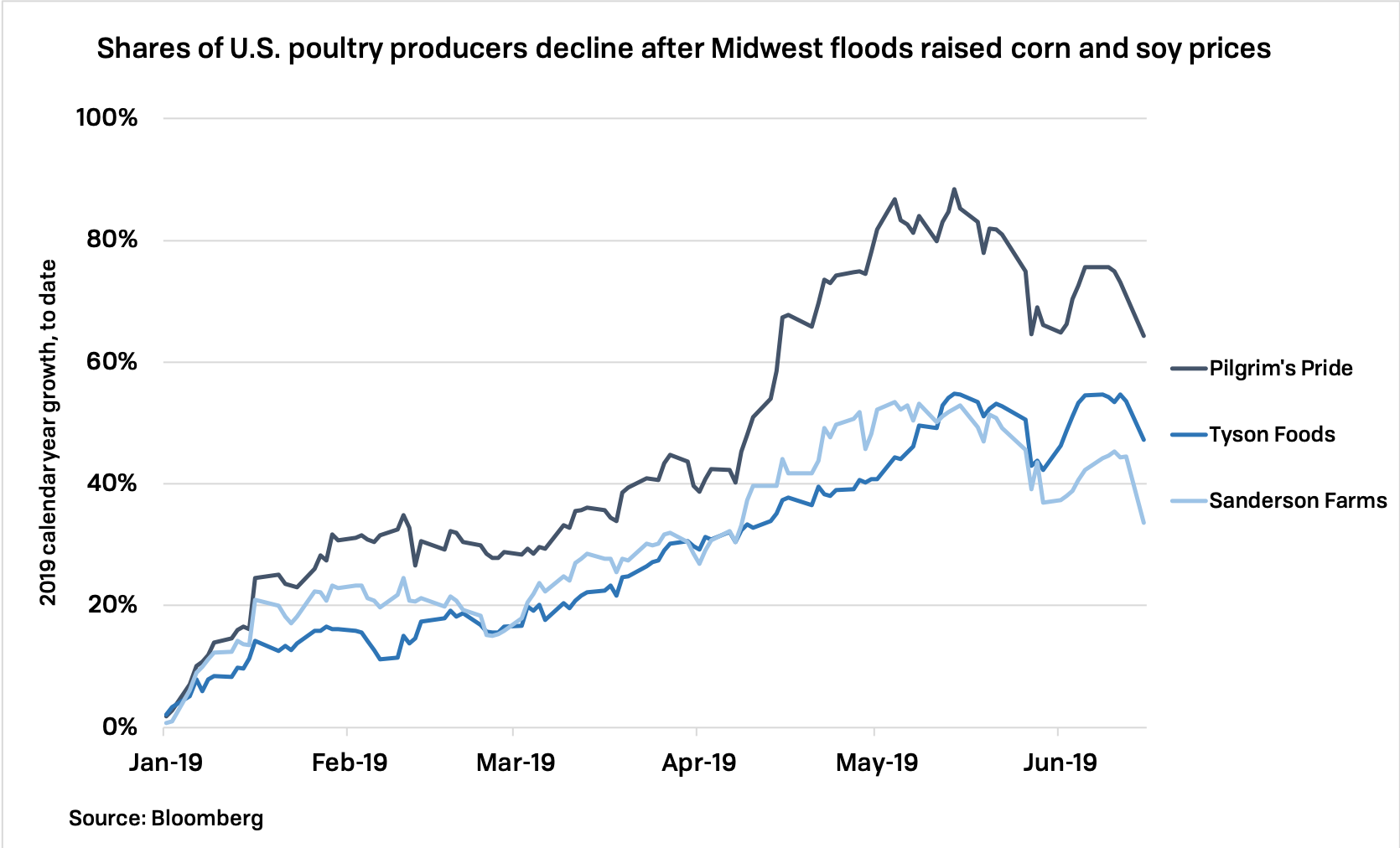 Flooding in the American Midwest: Throughout the Spring of 2019, severe flooding in the Mississippi River basin inflicted billions of dollars in damages on farmers, agribusinesses and meat companies reliant on the production and transportation of commodities throughout America's farm belt.
Global commodities trader Archer Daniels Midland estimated that disruptions from the floods reduced its Q1 2019 pre-tax operating profit by $50-60 million. This amounted to a 10-12% hit to the firm's Q4 2018 net income.
The floods caused millions of acres of corn and soybeans to go unplanted, driving up futures prices for the primary ingredients for livestock feed. This price shock affected the same poultry producers hit by the drought in Argentina the prior year. From mid-May to mid-June 2019, shares of Tyson Foods fell 4.8%, while shares of Sanderson Farms Inc. and Pilgrim's Pride Corp. fell more than 11% over the same period.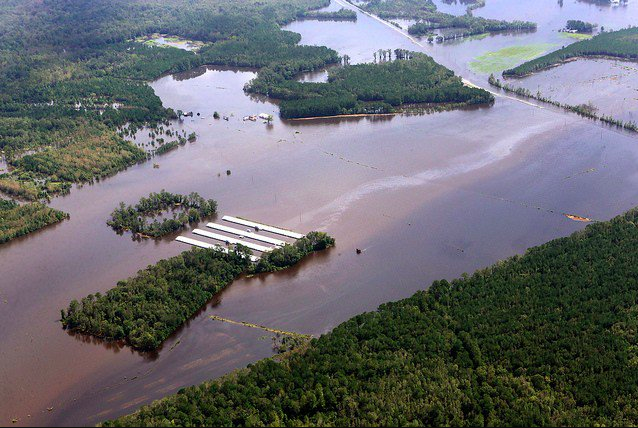 A livestock farm in eastern North Carolina photographed by Waterkeeper Alliance in the aftermath of Hurricane Florence. Source: Rick Dove/Waterkeeper Alliance.
Pork producer and processor Smithfield Foods was repeatedly linked to widespread overflowing of lagoons containing hog waste in the aftermath of Hurricane Florence. The breaches occurred as Smithfield was embroiled in several nuisance lawsuits from North Carolina residents claiming that the odors and potential diseases caused by hog waste disposal entitle them to damages. Cumulatively, four separate federal juries have ordered the company to pay nearly $100 million in compensatory and punitive damages.
Additional examples of impacts that occurred since the last edition of Feeding Ourselves Thirsty include:
Physical Risks
Citing a months-long drought in eastern Australia, GrainCorp Ltd, the country's largest bulk grain handler, saw its annual underlying net profit fall 50% as of September 2018. After the drought reduced the soil's capacity to absorb water, record rainfall flooded the region, killing an estimated 300,000 head of cattle. One of the country's largest beef producers, Australian Agricultural Company, saw its stock price decline 20% in the two weeks after announcing to investors that the flooding had "severely impacted" the company's properties and operations.
Suedzucker AG, Europe's largest sugar producer, cited drought in the company's European cultivation regions as the primary driver of its €87M operating loss in its sugar segment in Q3 2018/19. The sugar segment is the company's largest by revenue.
In July 2018, heavy rains and flooding in Japan caused damages in excess of $74 million to Coca-Cola Bottlers Japan Holdings Inc. Losses came in the form of decreased sales due to loss of production, as well as spikes in logistical costs. The disruption caused the company to issue an update to its full-year 2018 guidance, with its forecasted 2018 net income falling by 69%.
Regulatory & Litigation
The Colorado River has suffered historic, extended drought conditions for much of the last two decades. Next year, the Federal Bureau of Reclamation will require for the first time that several states in the basin reduce their water withdrawals. Agriculture currently uses approximately 80% of the Colorado's water to irrigate 15% of the nation's farmland. While many companies may be indirectly impacted by water supply disruptions in the region, companies with direct exposure include Conagra Foods, General Mills, J.M. Smucker Co., Kellogg Co. and Kraft Heinz Co. Commodities these companies source from the region include wheat, corn, berries and fresh vegetables.
Reputational
Constellation Brands Inc., maker of Corona and Modelo beers, has begun construction of a $1.5 billion brewery in Mexicali, in a part of the desert that relies on the already-stressed Colorado River. Local concerns over access to water have sparked organized opposition to the construction of the brewery.
U.S. meat companies have been targeted by a campaign to address the aquatic dead zone that now forms annually in the Gulf of Mexico. The dead zone is driven in large part by the runoff of nitrogen and phosphorous-rich fertilizer and manure from Meat companies and their feed suppliers.
Companies have demonstrated increasing awareness of these risks. Of the 35 publicly-traded companies evaluated in this report, 91% cite water and/or climate change as a risk in their annual financial statements, up from 69% in 2016. The sector's overall water risk management score rose 22% since 2017, and 52% since 2015.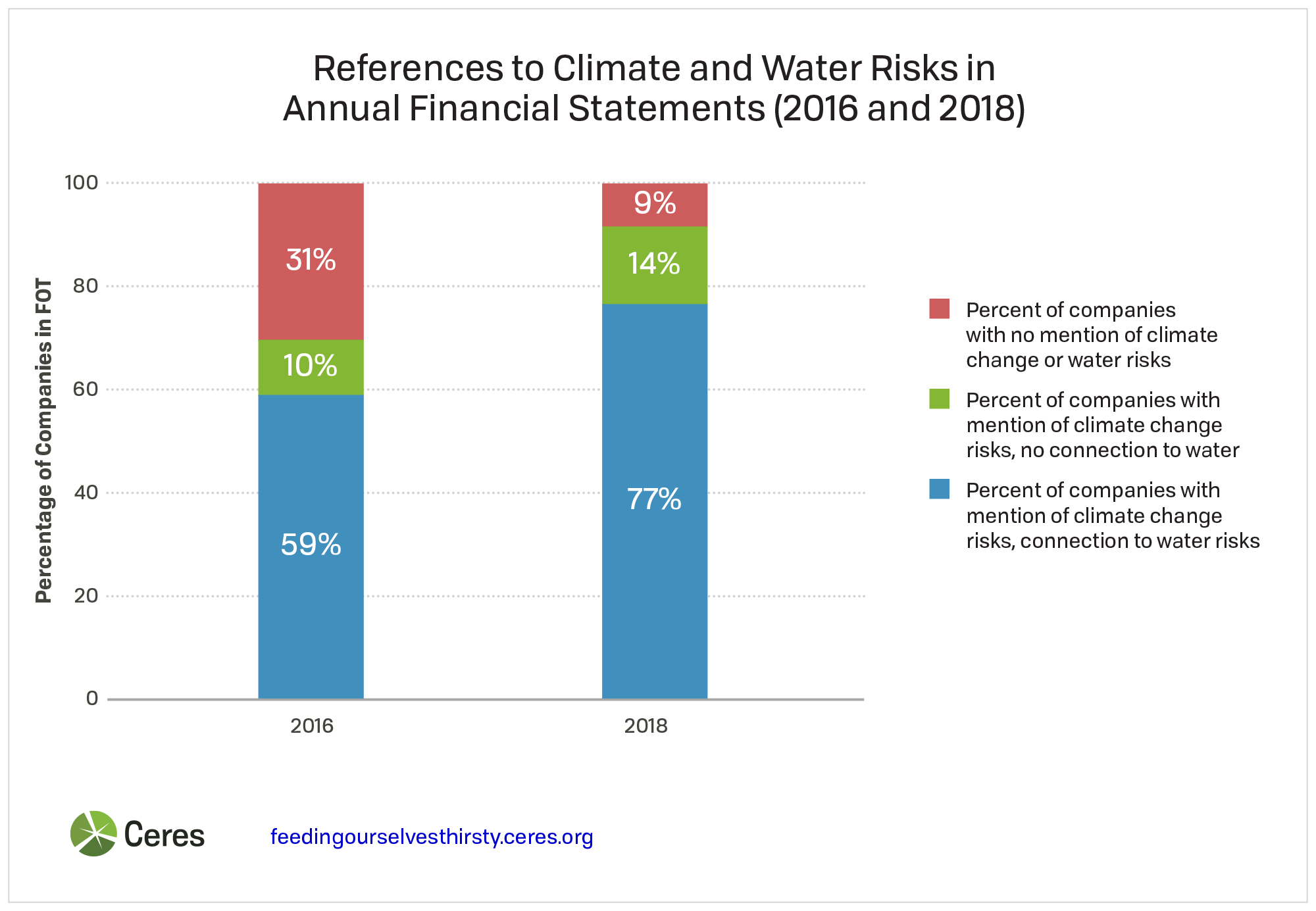 Despite the industry's growing awareness of water risks, it is clearly still not effectively managing them. The risks on the horizon – and the financial impacts which have already occurred – underscore the urgency with which food companies must enhance the resilience of their supply chains. 
For institutional investors, and universal asset owners in particular, water risks are systemic and material. Investors can better manage water risks by integrating companies' water dependence and water management responses into risk analysis and valuation. The following resources can serve as a starting point for this process:
Key Findings
Find out how the sector's performance has changed since the 2015 and 2017 analyses.
Industry Performance
Analyze the performance of companies in the context of their industry peers.