Quick Facts
Total Water Use (Gallons)
101.3bn
Average Score
↑
or
↓
since 2015
+3
Average Operational Water Efficiency (Gallons/$ Revenue)
0.76
While the meat industry's water management has improved since the last ranking, it remains the lowest performing industry, with an average score of 15 out of 100. The industry faces significant water pollution risks, both from slaughtering facilities and confined animal operations, as well as from fertilizer run-off associated with growing animal feed.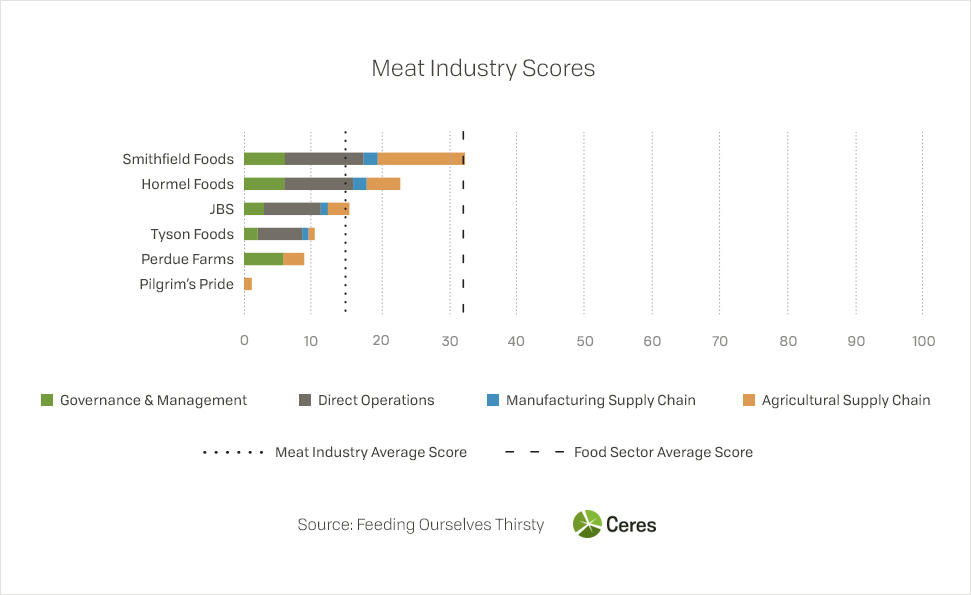 Areas of Strength
Governance:
Three of the companies (Hormel, JBS, Smithfield) have board oversight over sustainability and water and three (Hormel, Perdue, Smithfield) have executive level oversight over water, identifying an individual internally who either reports to the CEO or sits on the executive committee.
Water Targets:
Three of the companies (Hormel, Smithfield, Tyson) have set operational targets to reduce water use.
Engagement with Growers:
Four of the companies (Hormel, JBS, Perdue, Smithfield) are providing educational support to growers to encourage improved fertilizer or irrigation practices, although the scale in many cases is quite limited. Smithfield, however, is the only company that is providing farmers with financial support.
Smithfield lends out a crop sensing system to growers free of charge that allows farmers to identify precise fertilizer needs in real time and to gauge the evidence of the impacts and paybacks before making the investments on their own.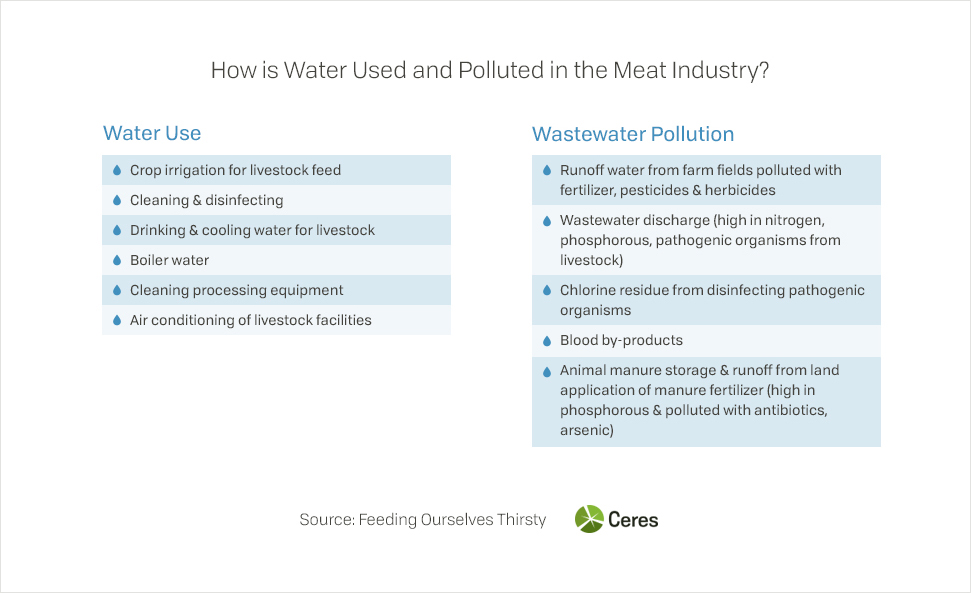 Areas for Improvement
Water Quality:
Five of the companies are ranked in the top 25 highest polluters according to EPA's Toxic Release Inventory
None of the meat companies evaluated are disclosing water quality data at the operational level and none are reporting goals to reduce wastewater discharges beyond what is required by law.
Meat Industry Water Pollution Data

 

Pollution Discharged to Surface Waters and Public Treatment Facilities

Company Discharges – National Rank*

Tons of Manure Produced by Animals**

Tyson Foods

15,613,972

3

55,289,069

JBS

6,711,385

12

45,614,601

Perdue Farms

4,491,386

20

3,715,140

Smithfield Foods

3,645,301

23

18,935,217

Pilgrim's Pride

3,582,687

24

182,668

Hormel Foods

79,363

–

8,245,061

*Data on pollution discharges from the 2015 U.S. EPA Toxic Release Inventory. Meat companies were ranked against all companies that reported, including other industries. Only the top 25 companies were ranked.

**Manure data pulled from the Environment America's 2016 "Corporate Agribusiness and the Fouling of America's Waterways" report, or calculated using the same methodology.
Risk Assessments:
The industry appears to be taking water risk more seriously with three companies (Hormel, JBS, Smithfield) improving their performance in this area. Yet, five of the six companies analyzed (Hormel, JBS, Perdue, Pilgrim's Pride, Tyson) have not yet begun to evaluate the water risks they are exposed to in their agricultural supply chain and two companies (Perdue and Pilgrim's Pride) have not undertaken a risk assessment at all. In all cases, water quality risks resulting from poor manure and nutrient management are not incorporated into the assessment.
Supplier Policies & Codes:
There are few examples in the meat industry where companies are developing sustainable agricultural policies and codes that inform and drive expectations of suppliers, including contract growers and feed suppliers. Two of the companies (Perdue and Pilgrim's Pride) lack a supplier code communicating the basic expectation that suppliers maintain environmental regulatory compliance.
Hormel is the only company that has developed a sustainable agriculture policy requiring all direct suppliers, contract animal growers and feed suppliers to meet best environmental practices for reducing water pollution risks, including with respect to the storage, transport and application of animal manure.