The $6 trillion global food and beverage sector operates at the center of the world's worsening water crisis. Relying on vast and consistent amounts of cheap water, food sector companies are among the first to feel the impacts as the global water supply becomes increasingly scarce, polluted, and unpredictable. 
The business imperative to effectively manage water supplies for the food sector is clear. Because the industry consumes 70% of the world's freshwater to grow and manufacture its products, and contributes to impacts on freshwater, the physical, reputational, and regulatory risks these giants face are unquestionable. Clean and abundant freshwater is a critical asset to food companies and to the farmers who grow raw ingredients. This crucial resource is being depleted and polluted at an alarming rate and the physical effects of climate change only exacerbate this trend. These are just some examples of how these risks have materialized over recent years: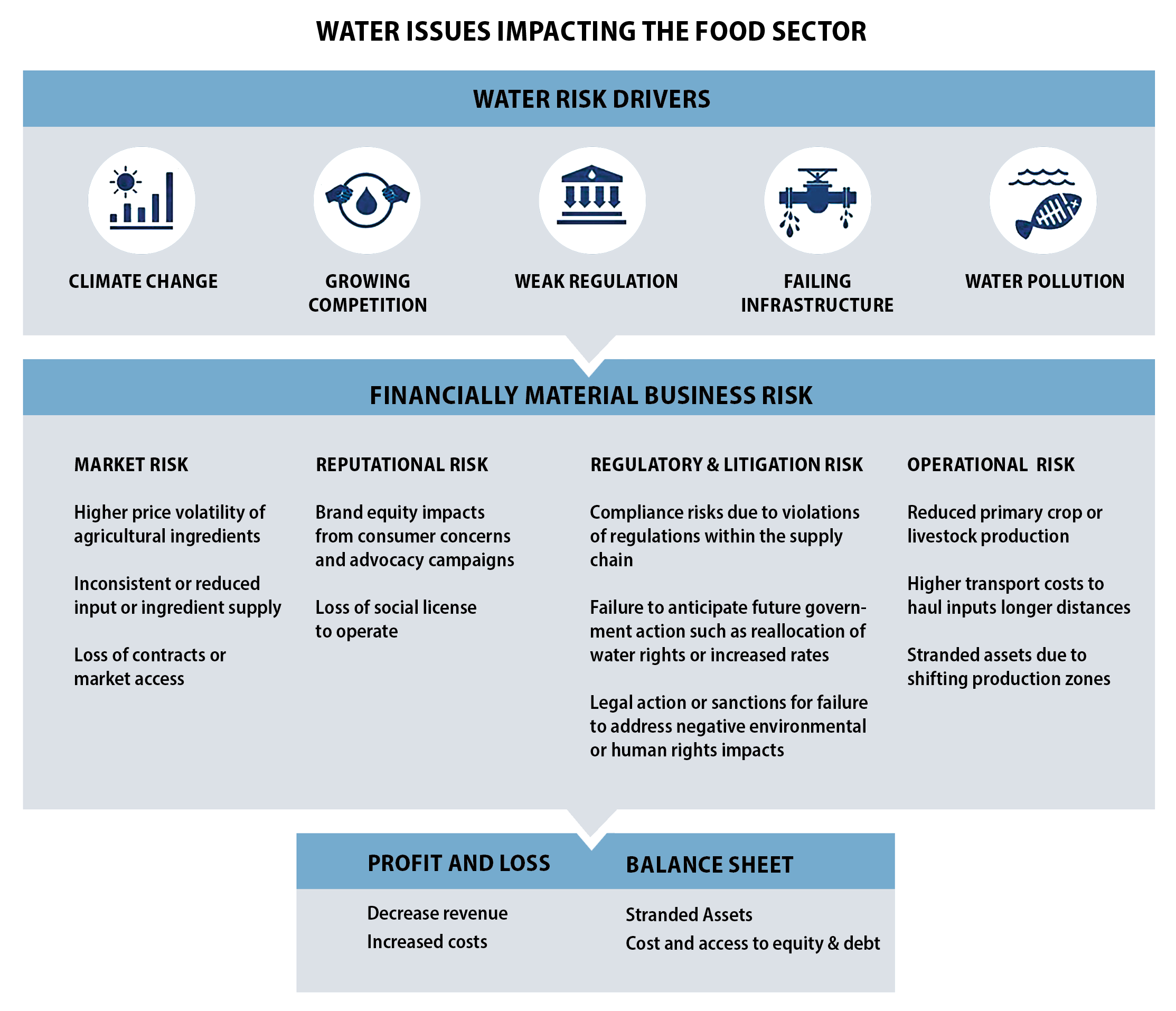 While food sector companies are exposed to threats caused by water pollution and scarcity, they also share responsibility for causing this crisis. Agriculture is rapidly draining aquifers and surface water reserves around the world and, in most countries, agricultural pollution is the leading cause of water degradation. Crop irrigation accounts for 75% of total consumptive use of water in the United States. As the single largest user of water across the nation, irrigation for cattle feed crops is the leading cause of water depletion in a third of all western U.S. sub-watersheds. Cattle feed irrigation accounts for 55% of water use in the Colorado River Basin, where excess demand in the basin this summer prompted the first ever federally declared water shortage, forcing some farmers to reduce their surface water use by fallowing fields or pumping water from limited groundwater reserves.  
In 2020, companies across the food sector voluntarily reported to CDP a potential financial impact of water risks totalling $196 billion. The actual financial impact is likely higher, as the full universe of food sector companies did not disclose their figures. For example, only 25 of the 38 companies analyzed in Feeding Ourselves Thirsty specifically identified and comprehensively disclosed the water-related risks within their value chains that have the potential to have a substantial financial or strategic impact on the business.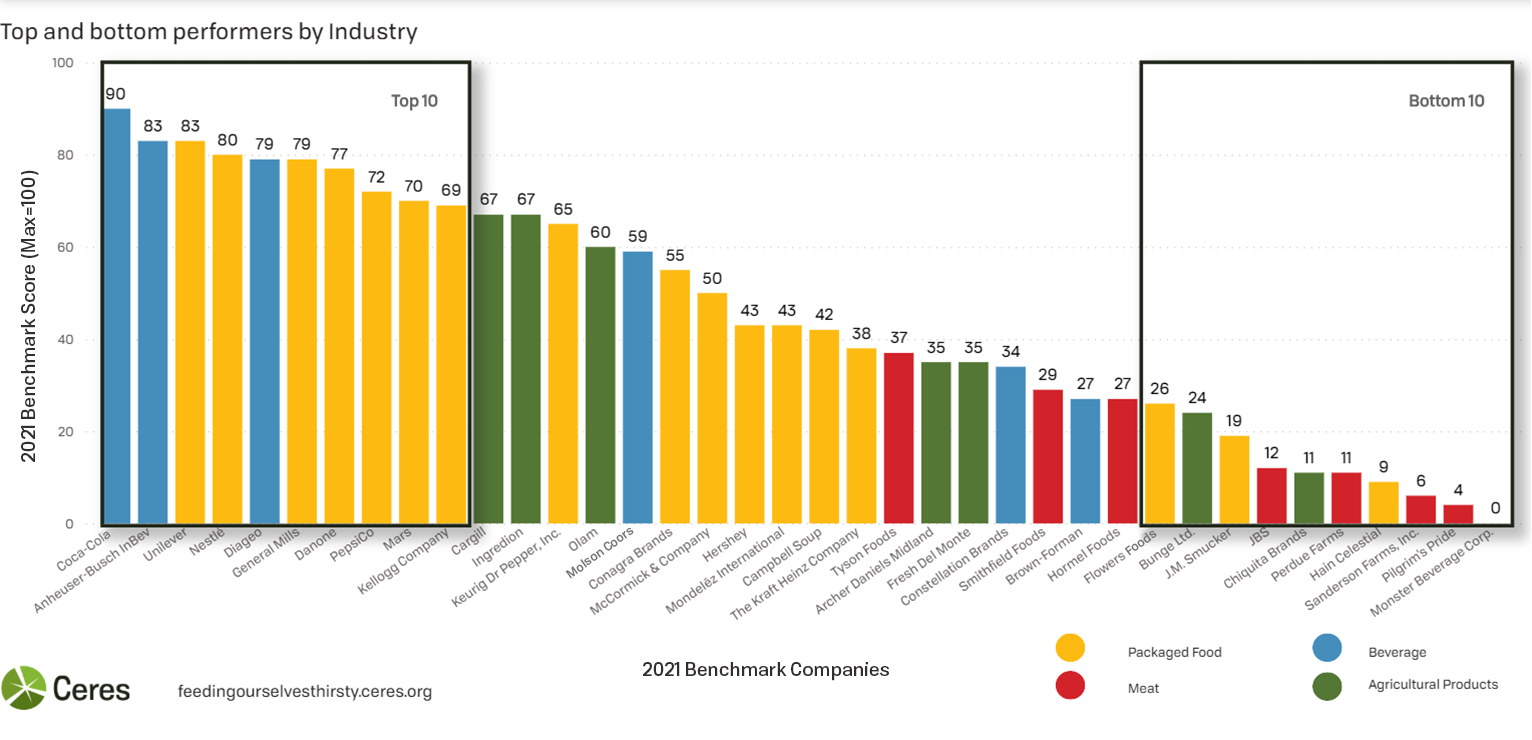 Over the past few years, food companies have shown that they are taking global water risks more seriously. Since Ceres introduced Feeding Ourselves Thirsty in 2015, company performance in the benchmark has incrementally improved, signalling a deeper understanding and increased management of water risks. As of 2021, 71% of companies consider water risks as part of their major business planning activities and investment decisions, up from 58% in 2019. Now, over half of companies tie executive compensation to water and sustainability performance (up from 33% in 2019) and 87% of companies are providing educational support to farmers to encourage adoption of practices that reduce impacts and dependence on water (an increase from 70% in 2019). 
In spite of this progress, many companies simply aren't moving quickly enough to ensure sustainable water supplies. The average company score is less than half of all available points, with an overall food sector average of 45 points and the meat sector still lags behind the pack, scoring an average 18 points. Overall, companies do not have sufficient water risk management practices in place, exacerbating their exposure to threats across their supply chains. The financial fallout of these reputational, regulatory, and physical risks has become increasingly evident.
 
Reputational Risks
Constellation Brands Inc.
Constellation Brands Inc., maker of Corona and Modelo beers, began construction of a $1.5 billion brewery in Mexicali nearly five years ago in an area of the desert that relies on the already-stressed Colorado River. Local concerns over access to water sparked organized opposition to the construction of the brewery and led to a local public referendum denying the company a water permit. Constellation will be unable to use or repurpose this site for future use and began dismantling its operations early this year. As a result, the company expects a long-lived asset impairment of up to $680 million in the first quarter of fiscal year 2022. Constellation Brands continues to experience public backlash and social license to operate risks for planning to use local water to make beer for export in a region regularly experiencing severe water scarcity.
Regulatory & Litigation Risks
Colorado
The Colorado River has suffered historic, extended drought conditions for much of the last two decades. In August 2021, the federal government declared a water shortage in the basin for the first time in history. While many companies may be indirectly impacted by water supply disruptions in the region, companies with direct exposure include Conagra Foods, General Mills, J.M. Smucker Co., Kellogg Co., and Kraft Heinz Co. Commodities that these companies source from the region include wheat, corn, berries, and fresh vegetables.
California
Implementation of the Sustainable Groundwater Management Act (SGMA) in the state of California continues to be rolled out since its initial enactment in 2014. The law requires that medium- to high-priority basins—around one fifth of those in the state—form groundwater sustainability agencies and develop sustainability plans to manage those basins. Bringing these groundwater basins into balance will have major implications on water availability for the agricultural sector. Many anticipate significant acreage of farmland coming out of production and a shift to growing the highest value crops. Companies with a footprint in California include: Olam, JBS, Tyson, Campbell, Smithfield Foods, Nestle, Chiquita, Unilever, Archer Daniels Midland, Constellation, Monster, General Mills, Smuckers, Fresh Del Monte, Bunge, Danone, Hormel Foods, Keurig Dr Pepper, Brown-Forman, Molson Coors, Coca-Cola, Anheuser-Busch InBev, Conagra Brands, Hain Celestial, Kellogg Company, Mars, and PepsiCo.
Physical Risks
Anheuser Busch InBev
Lower production volumes of barley due to drought conditions in the Cape watershed of South Africa forced Anheuser Busch InBev in 2020 to import malt from international markets, disrupting local operations, and costing the company $3.5 million. That same year, ABI's facilities in the Bajio region of Mexico experienced excessive rainfall, interfering with regular planting schedules and causing stunted barley maturation that led to an additional $3 million in losses.
Olam
A devastating drought in 2019 caused water scarcity and reduced ability to irrigate across Zambian coffee estates. This, coupled with localized flooding in another plantation, led to a significant coffee supply shortage for Olam. One of its estates lost almost all of its production, increasing the capital land costs, and raising cost-to-maturity for that plantation by more than 30%. The company, which is among the largest coffee traders in the world, anticipated losses of over $10 million from these impacts.
With these escalating risks, companies have a financial imperative to better manage water supplies. Companies can use the findings from the Feeding Ourselves Thirsty analysis to identify opportunities for improvement and understand leading practices from peers within relevant sub-industries. Many benchmarked companies are placing more focus on their water-intensive agricultural supply chains and making ambitious commitments to implement soil health practices and other conservation practices on their agricultural land, but with nearly 900 million acres of agricultural land in the U.S. alone, the magnitude of corporate action has not caught up to the scale of the risks. Building resilient agricultural supply chains and integrating water into everyday decision-making are necessary for companies to manage water risks and to mitigate negative externalities on ecosystems around the world. 
Investors can use the findings from this benchmark to understand the water management practices of their portfolio companies. For institutional investors, and universal asset owners especially, water risks in the food sector are both material and systemic in nature. For investors who take an active ownership approach on ESG and water issues, these findings can support stewardship efforts to change corporate practices and policies, improve investment returns, and create long-term investment value.