Written by Brooke Barton, Senior Director, Food and Water, Ceres
​Cape Town may reach "zero water day," this June and literally turn off the spigot for some four million residents. Prolonged drought in South Africa is a major factor in the city's water crisis, which is a foretaste of what other municipalities around the world may face--that is, unless  companies, investors and governments step up their stewardship of the world's finite water resources.
I am hopeful that Cape Town will continue to stave off its impending water emergency, as it has been able to do these past few months, through both urgent and longer-term actions to ensure more sustainable water supplies. In fact, Cape Town's approach to solving its water crisis is one of four positive trends that keep me going in the face of mounting challenges. On World Water Day 2018, I'd like to highlight these positive trends.
The Food and Beverage Sector Continues to Lead
A recent Ceres analysis, Turning Point, found that more than half (55 percent) of the 600+ largest publicly traded companies in the U.S. have at least general commitments to manage water resources through efforts such as water efficiency. Among those companies, the food and beverage sector outperforms, with 100 percent of companies committing to water conservation.
Setting broad-based water management goals is an essential first step for companies in water-intensive sectors, like the food industry, but they need to go further. They need to set time-bound targets in parts of the value chain with the highest water risks and pollution impacts. Here again, food companies performed better in our analysis than other sectors, with 57 percent taking this step in comparison to just 15 percent overall.
Agricultural supply chains are where food companies need to do the most work. It's where the vast majority of their water risk lies; yet few have acted in a robust manner at this level.
General Mills is a stand out example for managing water risks across its agricultural supply chain. The food giant worked with The Nature Conservancy to complete a global water risk assessment of all its production facilities and growing regions, identifying eight high-risk watersheds--such as the Ganges River in west-central India.  Among a range of steps to address its water impacts, the company committed to sustainably source 100 percent of its top 10 ingredients (palm oil, fiber packaging, wheat, oats, sugar beets, vanilla, cocoa, dairy, corn and sugarcane) representing more than 40 percent of annual raw material purchases, by 2020.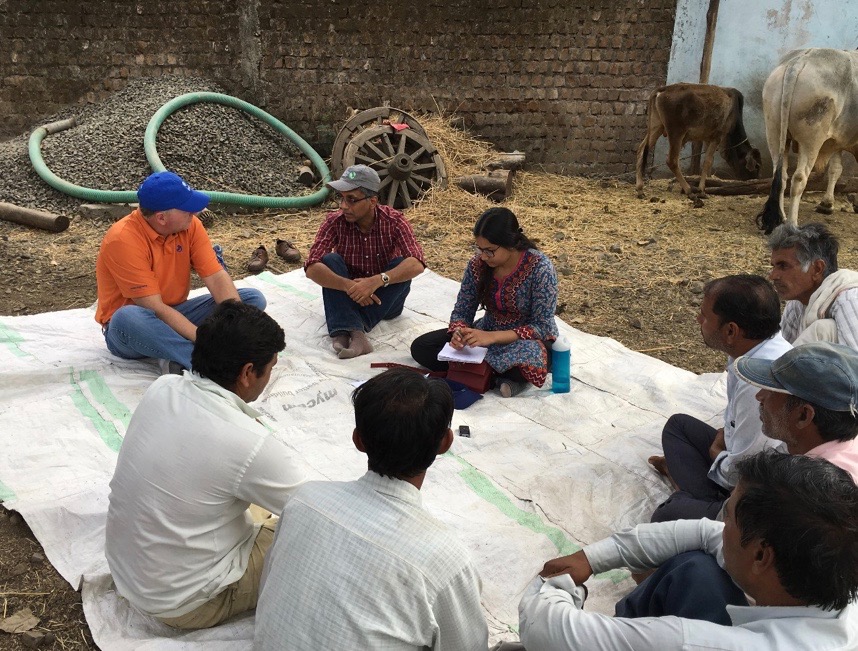 General Mill's Applied Sustainability Manager Jeff Hanratty meets with farmers in Madhya Pradesh region in west-central India.
Portfolio Water Footprinting Gains a Foothold
Water footprinting helps to identify water use patterns. Until recently, the analytical tool was most commonly used by companies to assess the amount of water used to produce specific goods or services. Now investors are adapting the tool to identify water risks across entire investment portfolios. And while methodologies are still evolving, it's an important development that can help focus investor attention on the sectors and companies most exposed to water risk.
The Dutch asset manager ACTIAM and Florida's State Board of Administration (SBA) are pioneers of this emerging trend. Florida SBA, which manages the country's fifth largest public pension fund, developed a water footprint analysis by combining external data sets with its own internal portfolio information. The water footprint, also called a heat map, shows Florida SBA's water risk exposure within a $15 billion passive portfolio, with investments in 11 sectors of the economy.
The heat map provides portfolio managers with a quick visual of where the greatest water risks lie, by illustrating where the portfolio has large sector holdings (size of the square), and which holdings within a sector have the greatest potential risk (color, with red being highest).  Portfolio managers can then drill down further to the holding level.
Analyses like these can help investment teams to develop quick assessment capabilities, while supporting and identifying priority areas for further research, integration of water risks into buy-sell decisions and direct engagement with poor performing companies.

Water risk heat map of a public pension fund's $15 billion passive portfolio. Red equals high risk, black is medium and green is low risk. Size of the square reflects size of the holding.
Animal Feed Sustainability is Gaining Steam
Animal production consumes a lot of water globally, and the vast majority of that water is used to irrigate feed crops, like corn, soy and alfalfa.  In fact, the irrigation of feed crops consumes 12 percent of the world's groundwater and surface water. What's more, feed crop production contributes substantially to water pollution as fertilizers used to boost production spill into local waterways, causing algal blooms and dead zones worldwide.
Water use and pollution are not the only sustainability concerns associated with animal feed.  A growing movement that seeks to comprehensively address animal feed's impacts—from water quality to greenhouse gas emissions to competition for land and biodiversity loss —offers a lot of promise.  
Food company-NGO collaborations like Protein Challenge 2040 are seeking to innovate new types of animal feed that would, not only reduce the amount of land devoted to feed crops (about 50 percent of total agricultural land) but also help address the global water crisis.   
One such solution is to diversify into other protein-rich feed crops, like legumes or oats. Rotating corn and soy with oats, wheat, barley, rye or triticale, for example, can also help to reduce the use of fertilizers, while improving soil health and productivity--and ultimately water quality.
The British supermarket Waitrose is participating in the Sustainable Forage Protein project, a 5-year collaboration between eight of Waitrose's commercial farms, researchers and processors to reduce the dependency on imported soy protein. Farmers are growing protein-rich forage crops on their own farms, as chicory, lucerne and red and white clover. They are also experimenting with fava beans as a long-term soy replacement for chicken, pigs, ducks and salmon.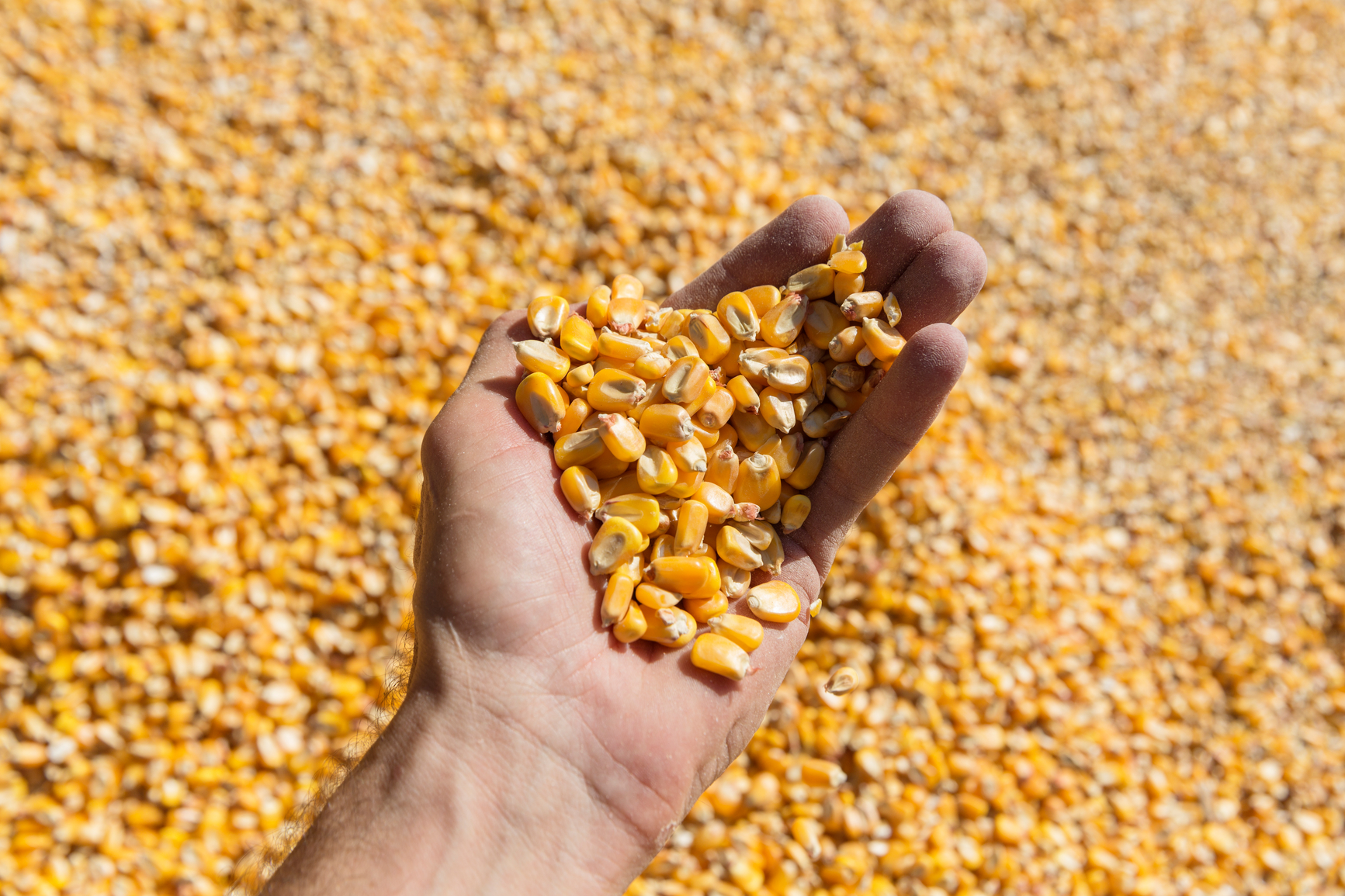 Green Bonds Can Help Cities Finance Sustainable Water Infrastructure
Green bonds are a financial instrument for earmarking private financing to fund environmental projects, like sustainable water infrastructure projects. Their issuance has steadily grown over the past decade, reaching about $160 billion in 2017, and they are poised for further growth. Just this week, former UN climate chief Christiana Figueres, along with Ceres and other NGOs urged cities, governments and large companies to join a new Green Bond Pledge that seeks to boost green bond issuance to $1 trillion a year by 2020, to mitigate climate and water impacts.
The Climate Bond Initiative (CBI) is also helping grow the green bonds market by developing certification standards, such as for water infrastructure projects, to ensure that any bonds labelled as green are indeed financing projects with robust environmental outcomes.
Cape Town was one of the first cities in the world to issue a CBI-certified green bond for water infrastructure. This is why I am hopeful that the city will emerge from its short-term water crisis to become a model for other cities with urgent water infrastructure needs. Issued last summer, the bonds will help fund and refinance the city's emergency water-supply schemes designed to address the severe water shortage, such as: upgrading reservoirs, implementing pressure-management systems with zone and valve metering, transforming wastewater into potable water, and replacing and upgrading sewers and sewer pumps.
Medium- and long-term programs financed by the bond include encouraging new design, innovation and technology in public infrastructure and private households to save water, while also embracing more fully small-scale, decentralized water augmentation schemes.
Thus far, the short-term schemes appear to be making a difference.
From green bonds to portfolio water footprinting to efforts by food companies to tackle agricultural water sustainability, these emerging trends offer me hope that a more sustainable water future is within our grasp.