In this analysis, Ceres took a closer look at how food sector companies are responding to water risks and how performance has changed since the first round of benchmarking in 2015. In this refresh, Ceres evaluated 42 food companies within four industries with the highest exposure to water risks: packaged foods, beverages, agricultural products and meat. This group consists of the largest U.S.-based and publicly traded companies, as well as a smaller number of large private and non-U.S. companies. Companies were assessed on a 0-100 point basis across four categories of water management: Governance and Strategy, Direct Operations, Manufacturing Supply Chain and Agricultural Supply Chain.
Learn more about the methodology, including categories and indicators used to evaluate company performance and point allocations, here.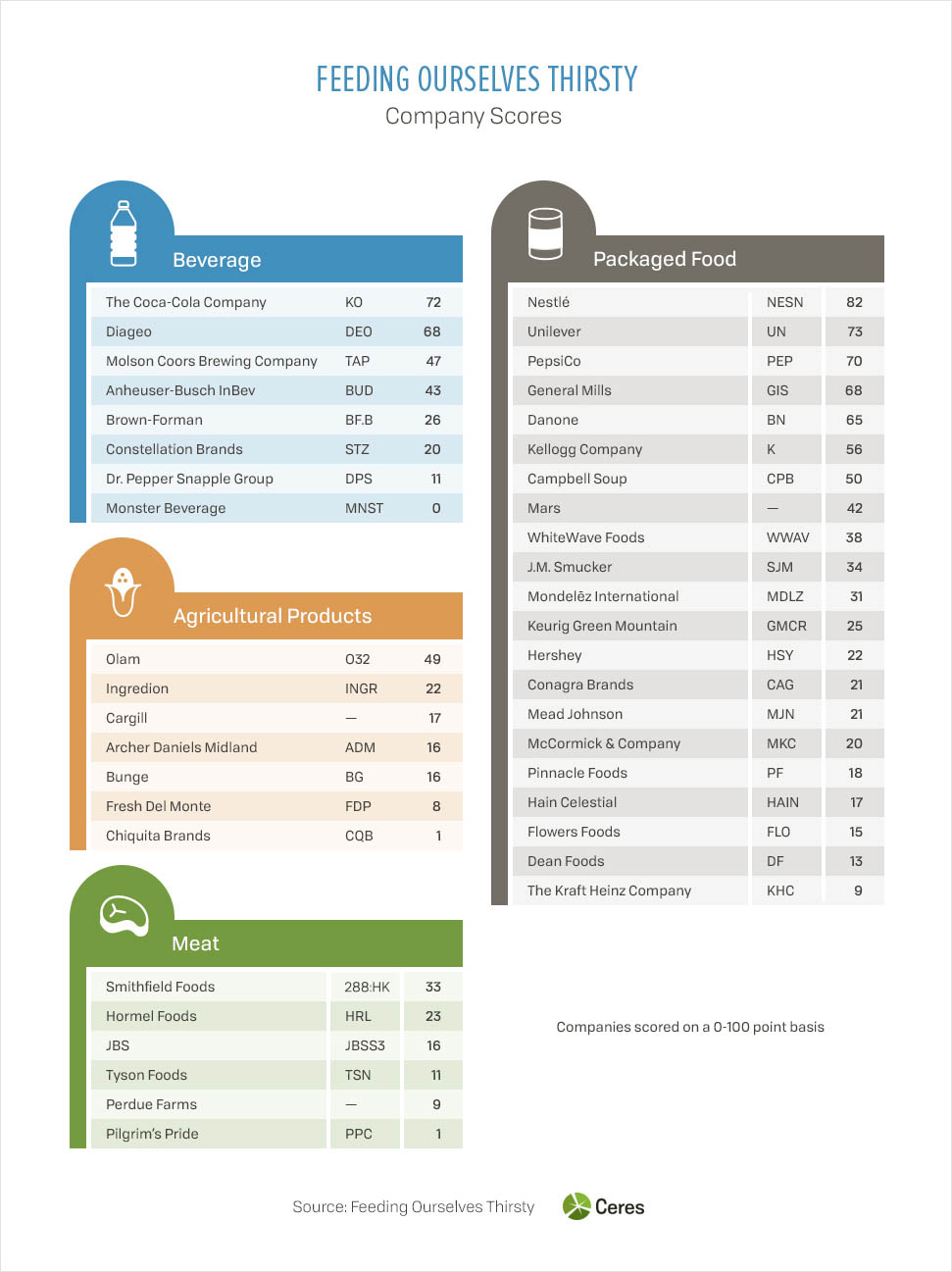 Overall Findings
The water risk management scores of all food companies improved by an average of 10 percent, with companies in the packaged food and meat industries making the biggest gains.
Average scores for the packaged food and meat industries improved by 16 percent and 20 percent respectively.
At the company level, some of the lowest performers in our 2015 analysis, including Hormel, Ingredion, and Pinnacle Foods, made noteworthy strides during the past two years. For instance, WhiteWave Foods' score increased by 27 points, driven by significant improvement in water management in direct operations, governance and agricultural supply chain.
Several companies that performed well two years ago, including General Mills, PepsiCo and Nestlé, continued to make significant gains.
Packaged food companies topped the list for best performers in the 2017 analysis, with seven companies totaling 50 or more points.
The beverage industry came in a close second, with two of the five highest-scoring companies: The Coca-Cola Company and Diageo.
Performance by Industry (Average Scores)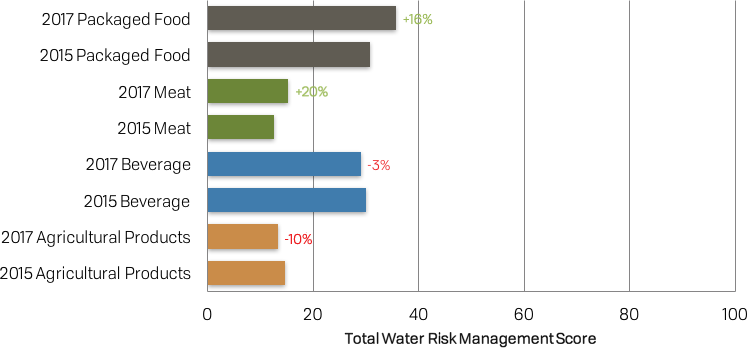 The meat and agricultural product industries continue to lag behind.
Although they have the most direct exposure to climate-related water risks, the meat and agricultural products industries disclosed limited investments in mitigating water risks in their operations and supply chains. While the meat industry's performance improved since 2015, its top scorer, Smithfield, received only 33 points. Olam, a new addition to the analysis, was the top scorer for the agricultural products industry with 49 points, which is markedly higher than its peers which received an industry average of 18 points.
A handful of companies lag markedly behind their peers, while many others reveal significant room for improvement. 
Companies with fewer than 20 points

Detailed Findings
Overall, the food sector is beginning to tackle many water challenges; however, it remains stalled on some critical pieces of the water management puzzle.
Governance
Board oversight of water risk remains limited.
While there was an increase in the number of companies starting to link executive compensation to water, other key governance indicators from board oversight over water-related issues to senior executive oversight remain unchanged since the last analysis.
| | | |
| --- | --- | --- |
| Governance | 2015 Analysis - Percent of Companies | 2017 Analysis - Percent Improvement |
| Board oversight of sustainability | 50% | + 13% |
| Explicit reference to water in board charter | 0% | 0% |
| Board briefings on water-related issues | 0% | 0% |
| Senior executive oversight | 50% | - 5% |
| Water linked to executive compensation | 11% | + 150% |
Campbell's is one of only four companies (in addition to Coca-Cola, Diageo, and Nestlé) that holds regular briefings with its board on water issues. The company briefs the CEO and board every quarter on environmental metrics, including water usage.
While the number of companies linking executive compensation to water savings increased substantially by 150 percent, currently only 30 percent (12) of the companies analyzed have made this linkage, with Dean Foods, Molson Coors, J.M. Smucker and WhiteWave Foods elaborating the most detailed connection between variable compensation and water efficiency goals for C-suite executives.
Climate-Related Water Risk
More than one-third (36 percent) of the publicly held companies analyzed made no mention of climate-related water risks in their most recent 10-K filings, even though increasing variability in precipitation patterns due to climbing temperatures pose enormous risks to the food sector.
Ten percent mentioned climate change but did not make the connection to water challenges.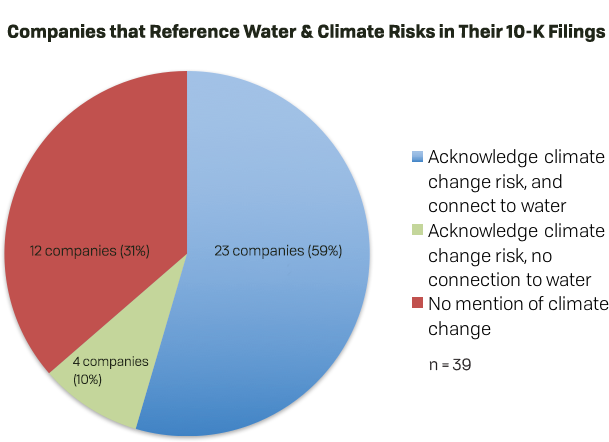 Water is becoming more deeply embedded in business strategy and planning
Nearly twice as many companies (26) disclosed formal integration of water risks into major business planning activities such as siting of facilities and new product development, in comparison to two years ago.
Yet, only 12 percent (5) of companies (Coca-Cola, Diageo, Nestlé, Olam and Unilever) are using tools or approaches to help them understand their potential financial exposure to water risk.
Water Accounting
Disclosing basic water accounting metrics at the operational level–from total water withdrawals to total wastewater volumes—is becoming the new normal.
75 percent (9) more companies, for a total of 62 percent (26), are now disclosing basic water accounting data for their operations. The 16 companies not disclosing total water withdrawals and total water discharges are: Archer Daniels Midland, Bunge, Cargill, Chiquita Brands, Flowers Foods, Fresh Del Monte, Hain Celestial, Hershey,  J.M. Smucker, Keurig Green Mountain, McCormick & Company, Molson Coors, Monster Beverage, PepsiCo, Perdue Farms, and Pilgrim's Pride.
Wastewater Discharge Standards
While disclosure of metrics around water withdrawals and wastewater volumes has improved, few companies set wastewater discharge standards.
Even as water quality levels in key growth markets around the globe continue to decline, only four companies (Danone, Diageo, Nestlé, Unilever) reported water discharge quality data, and just five (Coca-Cola, Danone, Diageo, Nestlé and PepsiCo) have a company-wide goal to reduce overall effluent load and ensure that wastewater meets a global wastewater loading standard. 
Water Targets
The majority of companies have set water use reduction targets, although some targets may not be sufficiently aggressive.
While 79 percent of companies (an increase of 12 percent) had operational water efficiency targets, few 14 percent (6) had risk-differentiated targets – meaning they set more ambitious targets for regions that are identified as most at risk. 
Water risk analysis improves, but supply chain risk often ignored
The food sector made definite improvements in this critical area; yet, too many companies—particularly in the meat and agricultural product industries—still have weak systems for collecting and interpreting data on the severity of their exposure to water risks.
Risk assessments around water improved by 30 percent with 83 percent (35) of companies now conducting at least a barebones risk assessment of their operations.
57 percent (24) of companies, which represents a 27 percent increase from the last report, also conducted a risk assessment of their agricultural supply chain, although in many cases the quality and scope of these assessments is not robust enough.
Four of the agricultural products and meat companies (Chiquita Brands, Fresh Del Monte, Perdue Farms, Pilgrim's Pride) didn't show any evidence of understanding their exposure to water risks in their direct operations or agricultural supply chain. Of the meat and agricultural products companies that had run this analysis, many did so on a limited basis, receiving fewer than 25 percent of the total points available for risk assessment.
The most commonly used tools that food sector companies are using to evaluate water risk exposure include the World Wildlife Fund's Water Risk Filter and the World Resources Institute's Aqueduct tool.
Download tools and resources appendix here.
Percent of Companies that have Conducted Water Risk Assessments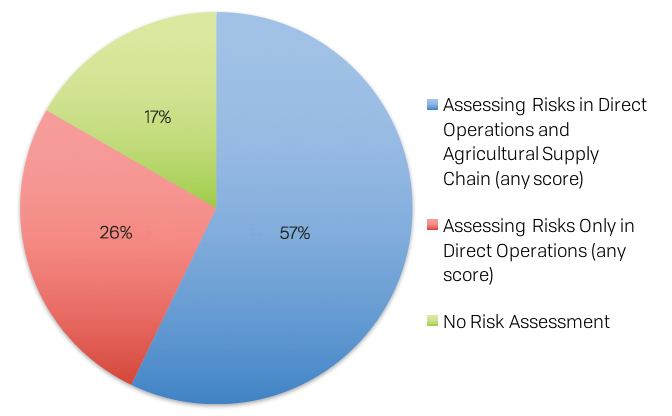 Supplier codes & policies
While more companies (83 percent increase) referenced water-related criteria in their agricultural supplier policies and codes, more than two-thirds (30) still fail to do so.
Furthermore, while asking suppliers to be in environmental regulatory compliance is the norm in the food sector, 21 percent of companies (Bunge, Brown-Forman, Cargill, Chiquita, Fresh Del Monte, Hain, Pilgrim's, Perdue, Monster) did not disclose a supplier code stating regulatory compliance as a supplier expectation.
Sustainable Sourcing Goals & Farm-Level Data Collection
Fifty-five percent, or 23 companies had set goals to source at least two of their major agricultural inputs more sustainably with respect to water. This is a significant increase compared to just two years ago where 41 percent of companies disclosed this.
However, many of the goals are one-off goals for commodities that may not be material to the company and only 14 percent—or six companies—had set sustainable sourcing goals for a majority of their major agricultural inputs (Coca-Cola, General Mills, Kellogg, Nestlé, PepsiCo, Unilever).
While more companies are setting sustainable sourcing goals, few companies have defined what they mean by sustainable sourcing or how they measure performance against these goals. Only 24 percent of companies (10) are using certifications, platforms and internal tools to measure performance against sustainable sourcing goals and only 12 percent (4) are doing this for more than 50 percent of their major agricultural inputs. This lack of transparency makes it challenging for those external to the company to understand the impact of these goals and whether or not they are truly helping the company to address key challenges like water quantity and quality in their value chain.
More companies (19 percent increase) are, however, collecting water-related data from growers. Some 57 percent gathered this data for some aspect of their agricultural production, although the scale of these efforts was often quite small.
Most companies— 70 percent (30)— are not effectively integrating sustainable agriculture policies, supplier codes and goals into internal processes, nor leveraging them to train and incentivize buyers.
While more companies are stepping up to share their sustainability and water management strategies with the public, in many cases their procurement teams are not familiar with company sustainability commitments and sustainable sourcing goals and have not been trained on how to incorporate these commitments into their purchasing decisions. Furthermore, many are not incentivized to integrate company policies and goals pertaining to water and broader sustainability strategy into decisions.
Grower Support and Incentives
The food sector is doing more to engage and support farmers in adopting water-smart practices, yet in many cases the efforts are targeted or relatively small.
The number of companies providing some form of direct educational support to farmers on sustainable practices more than doubled to 71 percent of companies. In addition, twice as many companies (26 percent) provided some form of financial incentives to growers to improve farm practices.
While this increase represents a positive trend, companies need to be more strategic in their efforts – focusing in particular on growers in high water-risk regions and identifying opportunities to get these projects to scale instead of increasing the number of one-off projects and pilots.
Collective Action at the Watershed Level
As competition for water increases globally and watersheds continue to be depleted at an unsustainable rate, collaborative efforts that spur public and private investment to protect and restore watersheds are a vital piece of the puzzle. Nevertheless, 80 percent of companies lack watershed protection plans focused on areas of high risk.
Watersheds are often compared to irresponsibly managed checking accounts with limited oversight of what is going in and coming out. While company action to conserve water in at-risk locations is important, it does not prevent other users in the watershed from overdrawing or polluting dwindling water supplies.
ABInBev, Coca-Cola, Mars and Olam are among nine of the companies that have developed detailed plans to engage collectively in the most at-risk watersheds that they operate in and/or source from. There are more companies pursuing one-off projects in watersheds than in the previous analysis. A piecemeal approach, however, whether tackling a high-risk watershed or one that's close to headquarters, isn't enough when company's facilities and supply chains span the globe.