Overall performance trends
In this analysis, Ceres took a closer look at how food sector companies are responding to water risks and how performance has changed since the first round of benchmarking in 2015. For this edition, Ceres evaluated 40 food companies within four industries with the highest exposure to water risks: Agricultural Products, Beverages, Meat and Packaged Foods. This group includes some of the largest U.S.-based and publicly traded companies, as well as a small number of large private and non-U.S. companies. Companies were assessed on a 0-to-100 points basis across four categories of water management: Governance and Strategy, Direct Operations, Manufacturing Supply Chain and Agricultural Supply Chain.
Learn more about the methodology here, including categories and indicators used to evaluate company performance and point allocations.

The food sector has improved its management of water risk, as the average score rose 22% since 2017, and 52% since 2015. Specific improvements by the companies analyzed include:
Corporate boards are becoming more water-aware. A third of the companies analyzed now charge boards and senior executives with overseeing and managing water risks, up from just 8% of companies in 2015.
Water-efficiency goals are standard practice. As of 2019, nearly all companies – 90% –  have set water use efficiency targets for their operations, though the ambition and speed of these targets vary. In fact, only a small minority of companies have disclosed targets that aim for more aggressive reductions in regions of particular water scarcity in their operations and/or supply chains.
Food companies are doing more to analyze the water-related physical, regulatory and reputational risks they face. More companies now assess water risks not only to their facilities, but also to their agricultural supply chains. Since 2015, the proportion of companies assessing both areas has jumped from 35% to 67%.
Unilever has regained the top ranking after strengthening its board's oversight of water risks, tying executive compensation to meeting water performance targets, and bolstering efforts to protect watersheds critical to its agricultural supply chain. 
Mars Inc. improved its score more than any company since 2017, largely due to setting ambitious new context-based water reduction targets, which are informed by the particular challenges within different watersheds.
Despite these improvements, the sector saw limited progress on other critical issues:
Water risk assessments: While more than two thirds of companies now conduct water risk assessments for their agricultural supply chains, the scope and rigor of these assessments are often limited. Many assessments still fail to account for risks other than water scarcity, ignoring agricultural runoff, impaired ecosystems, regulatory risks and the concerns of local stakeholders. 
Sustainable-sourcing commitments: Companies can make their supply chains more resilient by supporting sustainable farming practices in the watersheds where their most significant commodity inputs are sourced. Yet 37% still lack goals to source crops in ways which reduce impacts on water use and water quality. Additionally, existing goals often lack clear definitions, implementation plans and measurements of progress.
Incentivizing sustainable agriculture: Soil health is arguably the most important indicator of agricultural resilience to drought and other extremes in precipitation. By supporting farmers' transitions to more sustainable methods of production, companies can fortify their supply chains against extremes in weather that have become more frequent due to climate change. Yet less than half of companies have provided any form of financial support to growers to encourage adoption of sustainable agricultural practices.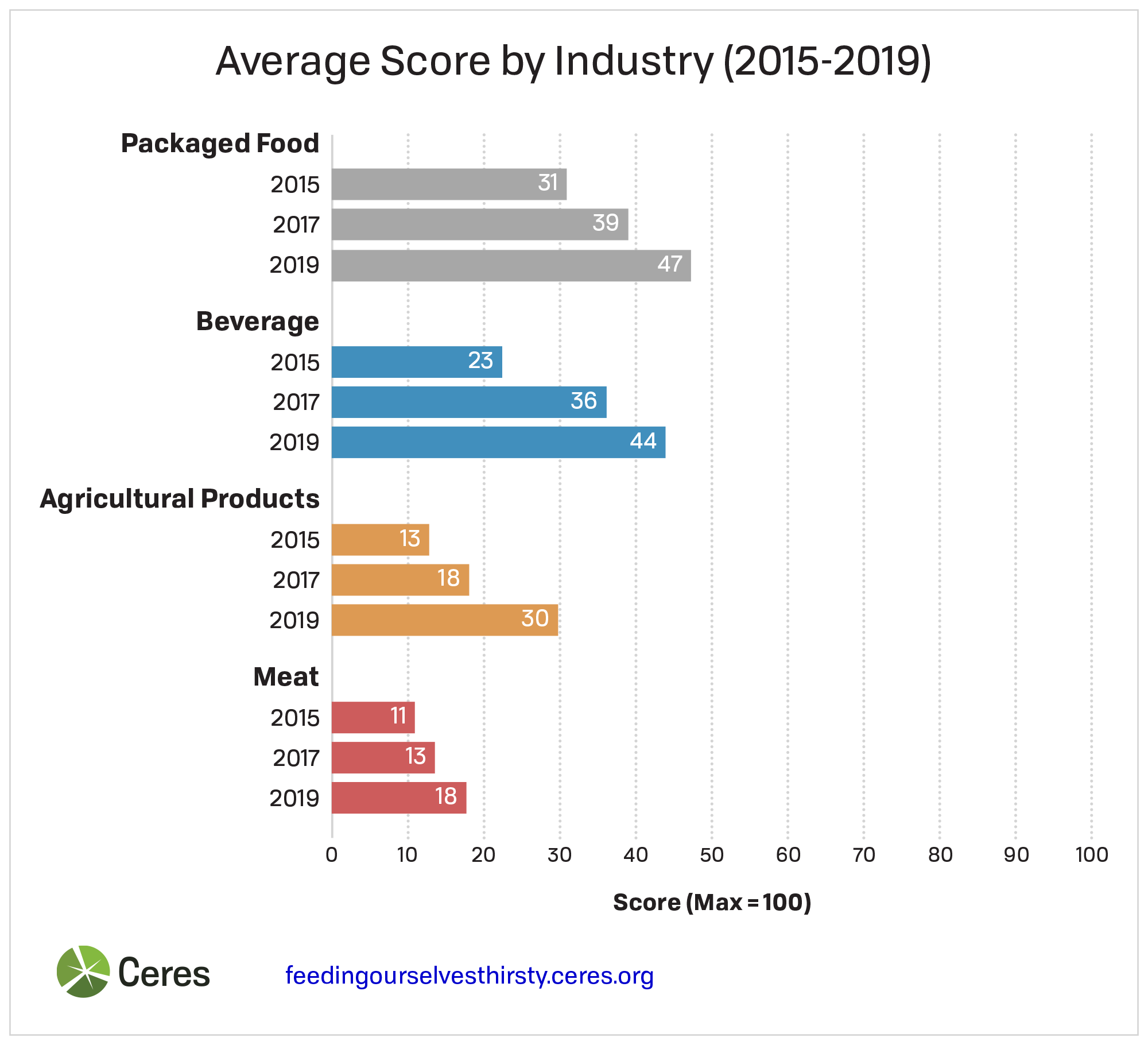 The Packaged Foods and Beverages industries continue to outperform the Agricultural Products and Meat industries. However, Agricultural Products companies improved their score more than any other industry since 2017.
The Meat industry, which is particularly vulnerable to water risks, remained the lowest-performing industry as meat processors continue to do relatively little to ensure resilient supply chains. Every Meat company (other than Smithfield Foods) ranked in the bottom half of all companies assessed. While this study does not place Cargill or Dean Foods within the Meat industry, beef and dairy cattle are critical components of their value chains, and both companies also ranked in the bottom 20.
Water risks and corporate governance
Climate change, water scarcity and water pollution pose financially material physical, regulatory and reputational risks to the global food sector. Boards can take the following steps to demonstrate to investors that their oversight over water-related risks is more than just a formality:
Board committee charters can be strengthened to explicitly mention water.
Board members can be regularly briefed by management on water-related risks, and provided with opportunities to engage with external water experts.
The board can disclose how water-related risks are considered in major strategic decisions and capital allocations. 
To incentivize performance, executive compensation plans can be linked to sustainability metrics, including water-related targets.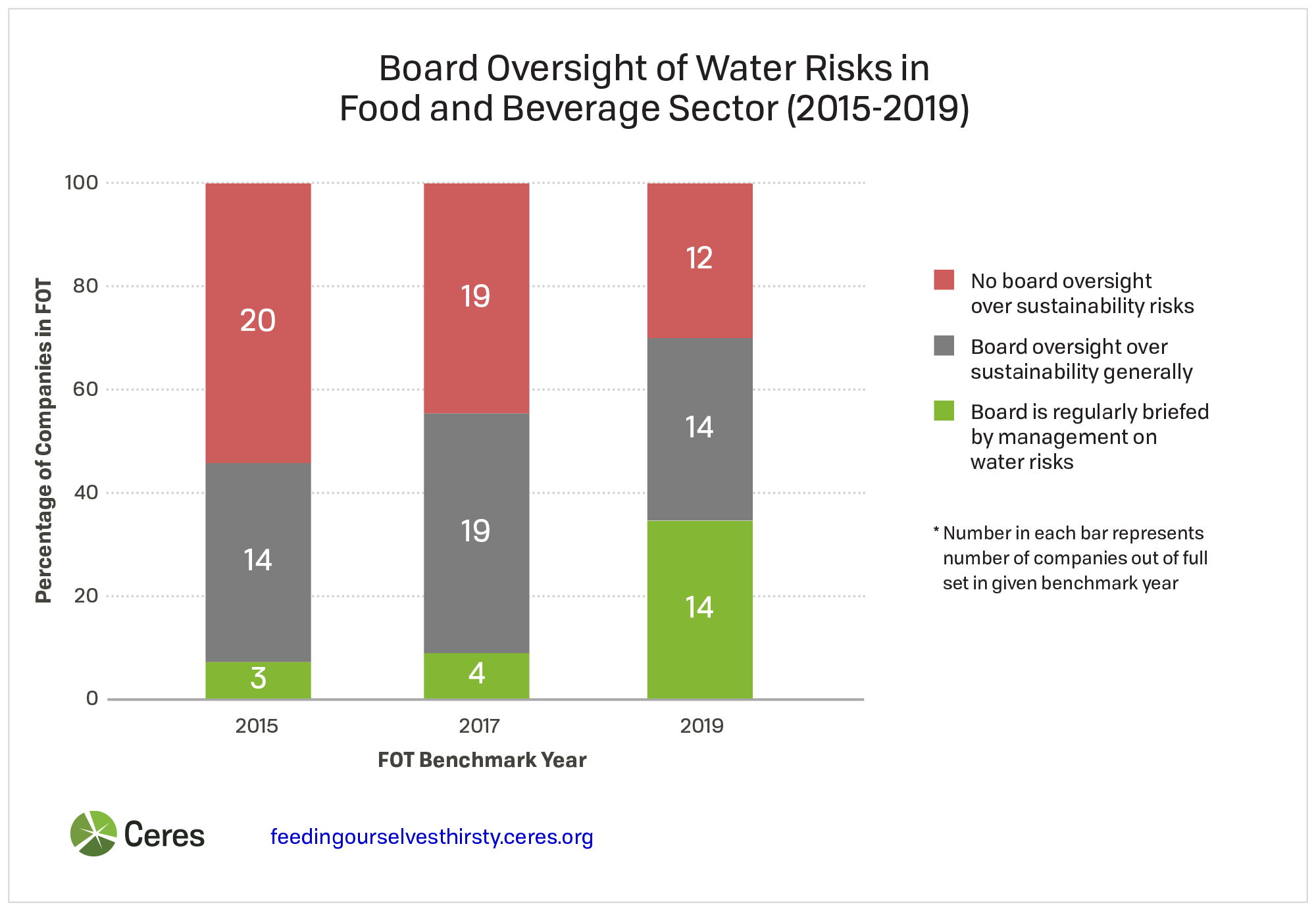 Fourteen of the 40 companies analyzed (up from just four in 2017) now designate a board committee that is regularly briefed on water risks and strategy. However, 14 additional companies only establish  board oversight over sustainability issues generally, while 12 companies still lack any board oversight of sustainability at all.
The Public Responsibility Committee of the General Mills Board of Directors meets three times per year and is briefed on the results of water risk assessments by the firm's Chief Supply Chain Officer. The committee is also responsible for reviewing and approving water risk management strategies and investments. 
The majority of companies analyzed now formally factor water into major business planning decisions such as acquisitions, capital investments, siting of facilities, and contracts with major suppliers. 
Ingredion has formally integrated climate and water-related risks into its due diligence process for potential acquisitions.
Diageo has developed an internal tool that calculates the direct and indirect costs of its facilities' water use. The company has estimated that its work on water use improvement has saved £26.4 million to date.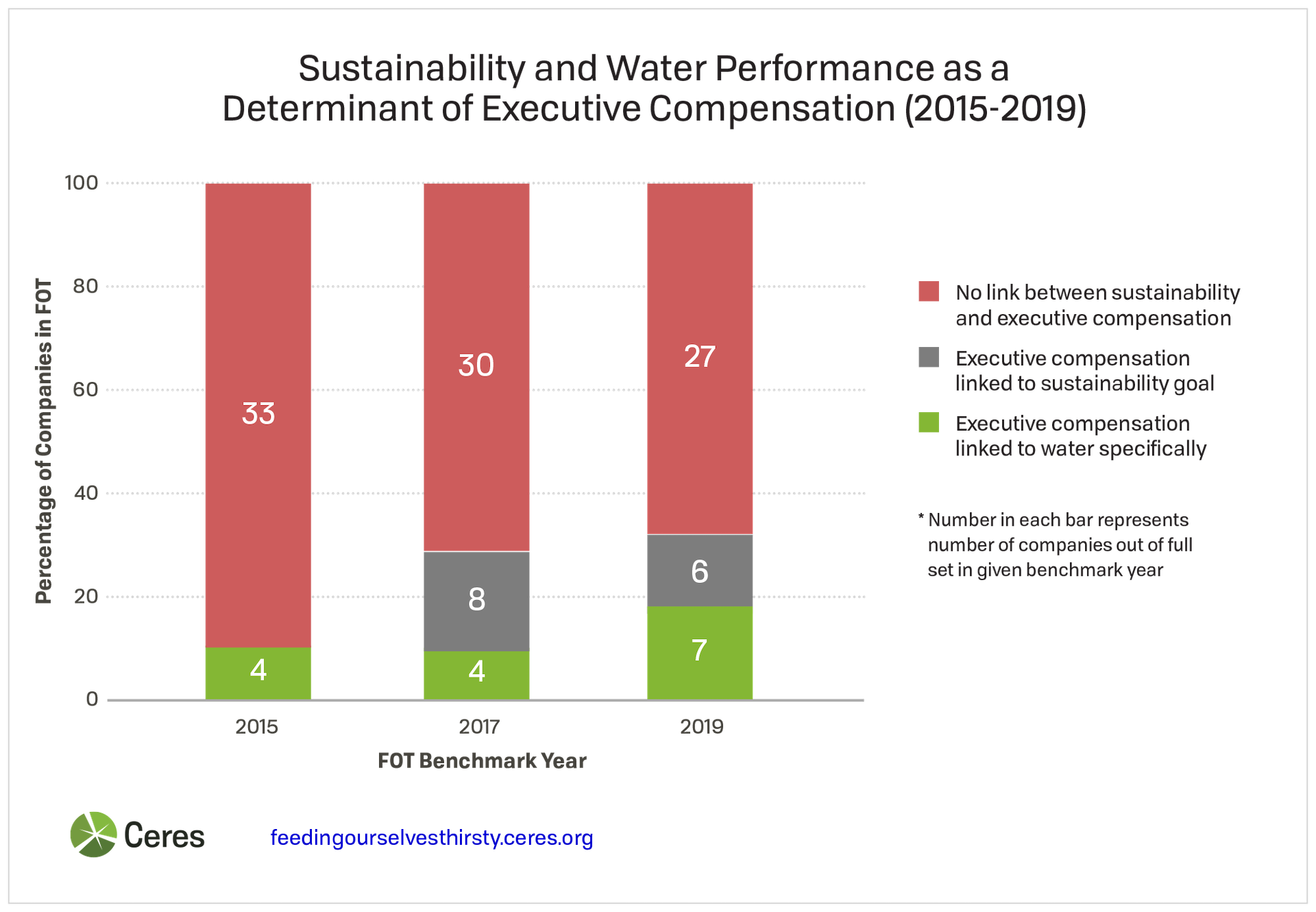 Less than one third of companies evaluated link executive compensation to achieving water goals or performance on other sustainability issues. 
Molson Coors provides incentives to its corporate executive team, its COO, CPO, management unit and business unit managers based on progress on key performance indicators (KPIs) related to sustainability. These KPIs include water consumption per hectoliter of production and water use efficiency in the agricultural supply chain and malting operations. 
Group Danone includes water reduction, effluent improvement and water-related community project goals in the targets that are considered as a part of the company's annual variable compensation packages. 
Water risk assessments
Abundant clean water is essential to food production — as an ingredient, for cleaning and moving raw materials, and as the principal agent used in sanitizing plant machinery. However, the vast majority of the food sector's water use and water pollution footprint is associated with the agricultural supply chain. While more companies now assess water risks in their agricultural supply chains, the scope and rigor of these assessments are often limited.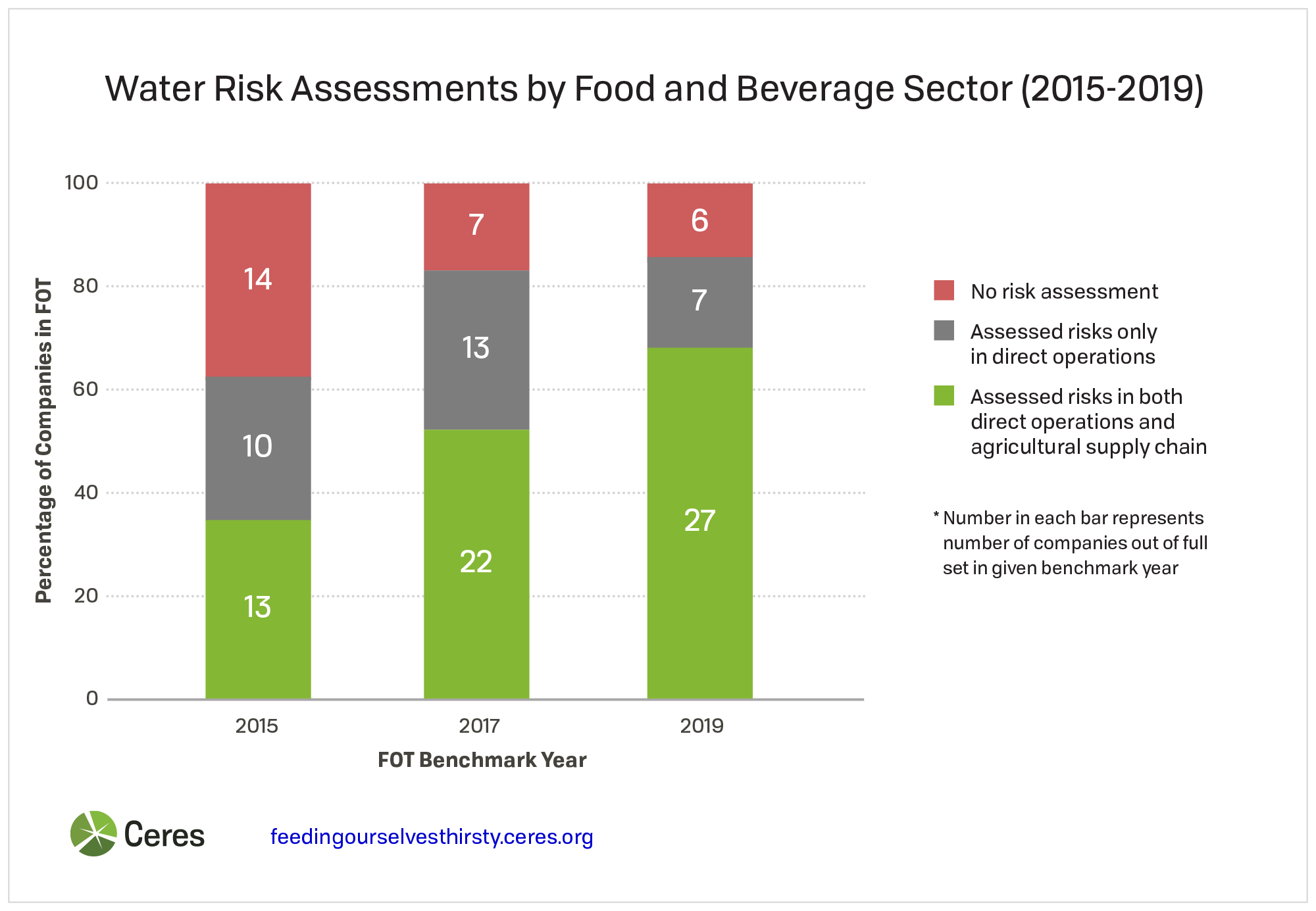 Of the companies analyzed, 85% disclosed assessing water risks in their direct operations in 2019, up from just 62% in 2015. Since 2015, the percentage of companies also assessing risks in their agricultural supply chain has jumped from 35% to 67%. 
Of the 13 companies that have yet to assess water risks in their agricultural supply chains, six are in the Meat industry.
Only one third of companies have analyzed the exposure of their agricultural commodities and sourcing regions to water risks other than  scarcity. Additional water risks include agricultural runoff, impaired ecosystems, regulatory risks and limited local access to water.
Chiquita Brands, Fresh Del Monte, Monster Beverage, Perdue Farms, Pilgrim's Pride and Sanderson Farms have yet to assess water risks at their facilities or within their supply chains.
General Mills analyzed its water risk exposure across 41 watersheds, accounting for 15 ingredients in 36 sourcing regions. The assessment used several tools including the WWF-DEG Water Risk Filter, WBCSD's Global Water Tool, and irrigation intensity data from the University of Minnesota Institute on the Environment. The analysis accounted for a range of challenges in addition to water scarcity, including the concerns of local stakeholders and regulatory risk.
Ingredion uses multiple third-party tools to identify crops and growing regions facing a variety of water- and climate-related risks. This analysis informs how the company prioritizes which growers to include in its sustainable-sourcing programs. Once these growers are identified, the company uses the Sustainable Agriculture Initiative's Farm Sustainability Assessment to understand its most critical water challenges. Ingredion also integrates several of the IPCC's warming scenarios into its agricultural sourcing strategy. 
Water use reduction targets
Of the companies analyzed, 90% now have targets to reduce water use or water intensity in their direct operations, helping them to reduce costs and improve their resilience to shortages. Most of these targets are still set at the corporate level – for example, a goal to achieve a 10% improvement in water use efficiency across the entire business by 2025. Only a quarter of companies report setting locally relevant targets, which aim for more aggressive water use reductions in regions of greater water scarcity.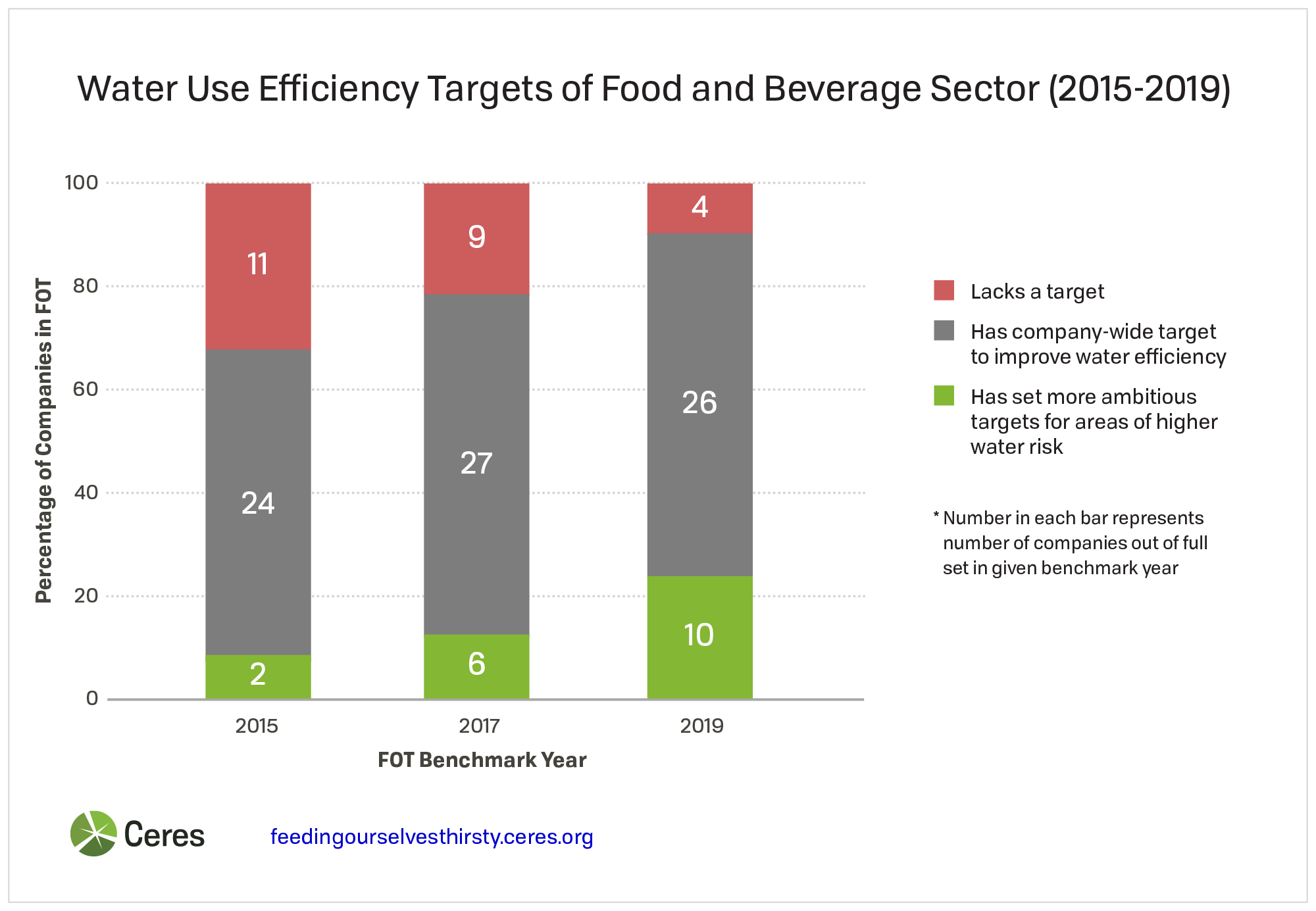 Mars Inc. has set context-based goals to ensure water use along its value chain is within annually renewable levels specific to the watersheds they operate in and source from. The company aims to reduce its water use 50% (from 2015 levels) by 2025. Mars set more ambitious water intensity targets for facilities in regions of high water stress, and will require 20 of its factories within the highest water-risk regions to complete water stewardship reviews in accordance with the Alliance for Water Stewardship standard.
Bunge has a goal to reduce its facilities' water withdrawals 10% by 2026, and 25% for facilities located in areas of high water stress.
Sustainable-sourcing commitments
As water supplies are increasingly depleted and polluted in major agricultural regions across the world, traditional approaches to managing commodity price volatility (such as hedging and geographic diversification of sourcing) are becoming less effective. Companies can make their supply chains more resilient by supporting sustainable farming practices and protecting watersheds. Companies send important signals to their agricultural supply chains when they develop policies and set goals to source commodities grown with reduced impacts on water use and water quality.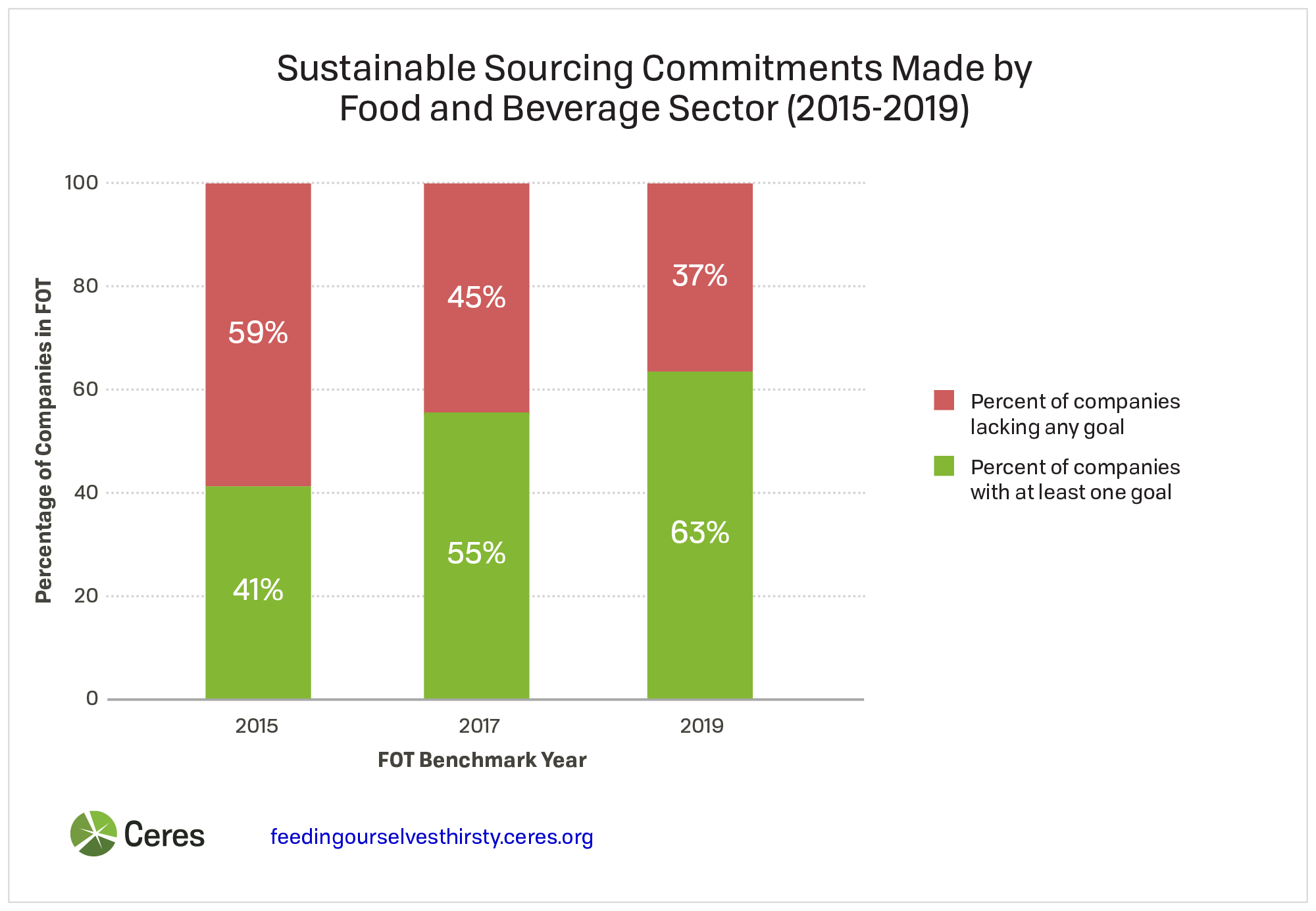 While the increase in the number of companies setting water-smart sourcing commitments is encouraging, over one-third of the companies studied still lack such goals. As more companies set sustainable-sourcing goals, the lack of common definitions, tools and ways to measure progress makes it difficult to evaluate and compare the strength of these commitments. 
To address this challenge, Ceres increased the emphasis on sustainable-sourcing goals in our scoring model for this edition of Feeding Ourselves Thirsty, and developed a four part structure to evaluate the strength of commitments:
A. The commitment is time-bound and quantifiable: The commitment has a publicly disclosed target achievement date and is paired with clear performance indicators that define "sustainably sourced."
Leading example: Unilever has a goal to source 100% of its agricultural raw materials sustainably: 10% by 2010; 30% by 2012; 50% by 2015; 100% by 2020. The company defines sustainable sourcing for each commodity through certification standards or through its sustainable agriculture code.
B. The commitment is impact-oriented: The commitment aims to measure and improve environmental and water-related performance either directly (e.g.,  water efficiency per acre, nitrogen reduction per ton, etc.,) or indirectly (e.g., adopting specific practices such as cover cropping).
Leading example: Campbell's Soup has a goal to reduce nitrogen applied per ton of tomatoes 10% by the end of 2020, as compared to 2012.
C. Commodity breadth: The commitment applies to a majority of the company's significant agricultural inputs.
Leading example: General Mills aims to sustainably source 100% of its top 10 priority ingredients (palm oil, fiber packing, U.S. dairy, U.S. sugar beets, U.S. corn, U.S. wheat, oats, cocoa, sugarcane and vanilla) by 2020. Its performance dashboard defines sustainable sourcing and tracks progress by commodity. 
D. Commodity depth: The commitment applies to a significant portion of the procurement of the commodity in question. 
Leading example: Nestle has a goal to source 70% of its total spend and volume from suppliers in compliance with its Responsible Sourcing Standard by 2020. Nestle discloses its progress against this goal annually.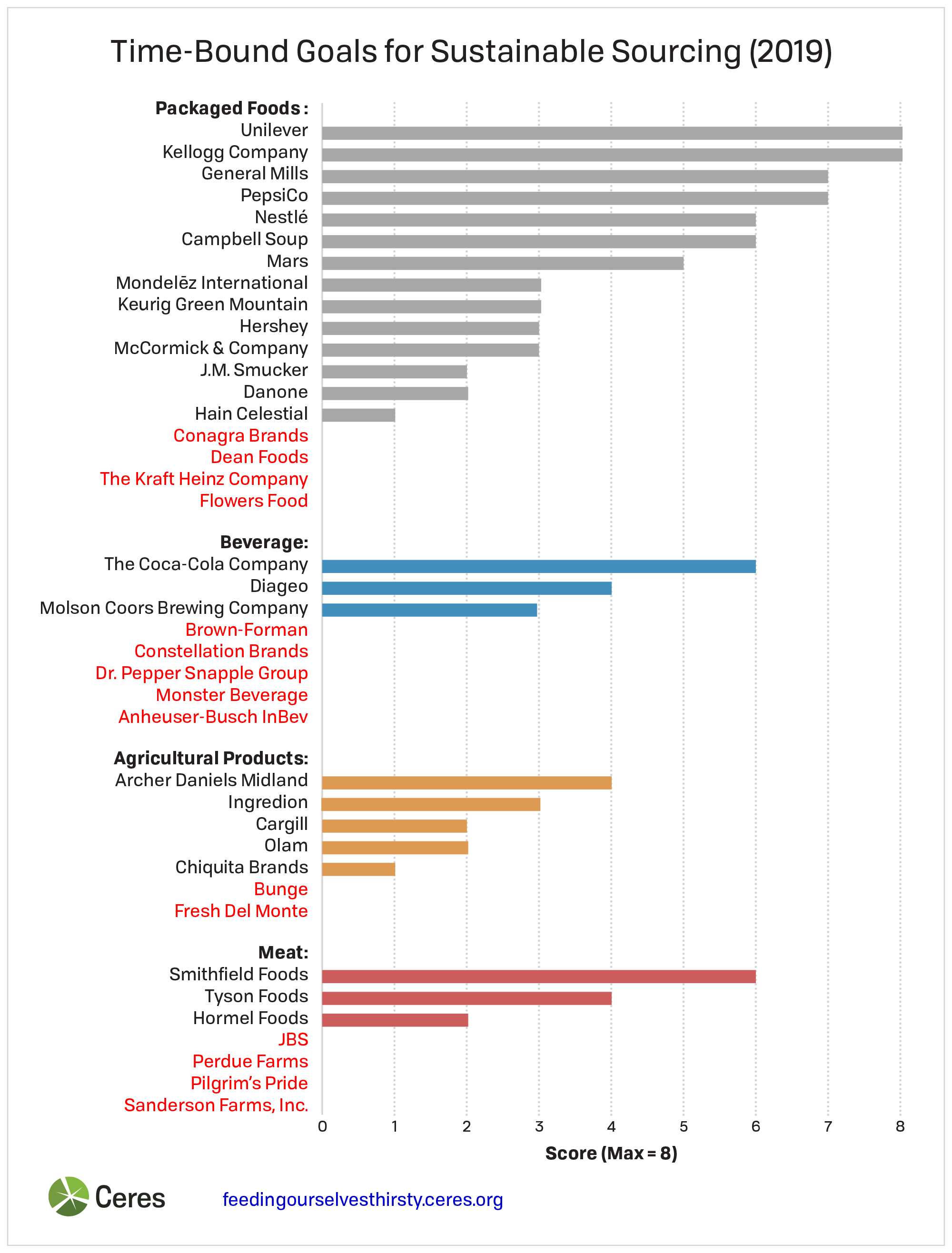 *Of the companies that are setting sustainable sourcing goals, few are meeting a high threshold of performance (i.e. goals that are measurable, impact-oriented, and apply to a significant portion of the company's most important commodities).
Other Leading Examples
Kellogg Company
Time-bound & Quantitative: Kellogg's has a goal to responsibly source its ten priority ingredients (corn, sugar cane, palm oil, potatoes, rice, sugar beet, vanilla, eggs, wheat, fruits and cocoa) globally by 2020. The company defines responsible sourcing for each of the ingredients and regularly discloses progress against the goal. 
Impact-oriented: Kellogg's works with suppliers to use tools like the Field to Market Fieldprint Calculator, the Cool Farm Tool, the Sustainable Agriculture Initiative's self-assessment and Kellogg's own Grower Survey to collect data and measure progress. 
Breadth: The goal covers all priority commodities, which were identified based on spending and prevalence in the company's portfolio. 
Depth: The goal applies to 100% of each of the commodities and, thus far, the company has responsibly sourced at least 80% of a majority of the priority commodities identified.
PepsiCo
Time-bound & Quantitative: PepsiCo has a goal to sustainably source its direct commodity purchases (potatoes, unprocessed corn, unprocessed oats, and oranges) by 2020. By 2025, it aims to sustainably source its indirectly purchased commodities (palm oil, cane sugar, wheat and cornmeal). The company has a target to improve water-use efficiency 15% by 2025 in areas of high-water risk in its direct agricultural supply chain.
Impact-Oriented: PepsiCo's water efficiency goal was informed by an evaluation of the company's water footprint in watersheds critical to its agricultural supply chain. PepsiCo provides farmers with more efficient irrigation equipment and supports farmers' adoption of practices to conserve water. For the company's broader sustainable-sourcing goals, the company uses its internal Sustainable Farming Program (SFP) and verification by third party assessment to determine whether crops have been produced in accordance with the SFP fundamental principles, which include relevant practices for nutrient application, water conservation and soil health.
Breadth: PepsiCo's sustainable-sourcing and water-efficiency goals cover a majority of the company's key commodities. 
Depth: The goals apply to the entire supply of each of the major commodities included. 
Grower support and sustainable production incentives
More food companies are recognizing the environmental and financial benefits of supporting their growers' transition to sustainable farming practices. Soil health is arguably the most important indicator of agricultural resilience to drought and other extremes in precipitation. Optimized application of fertilizer reduces nutrient runoff and farmers' input costs. By providing educational and financial support to growers, companies can accelerate their supply chains' adoption of these practices.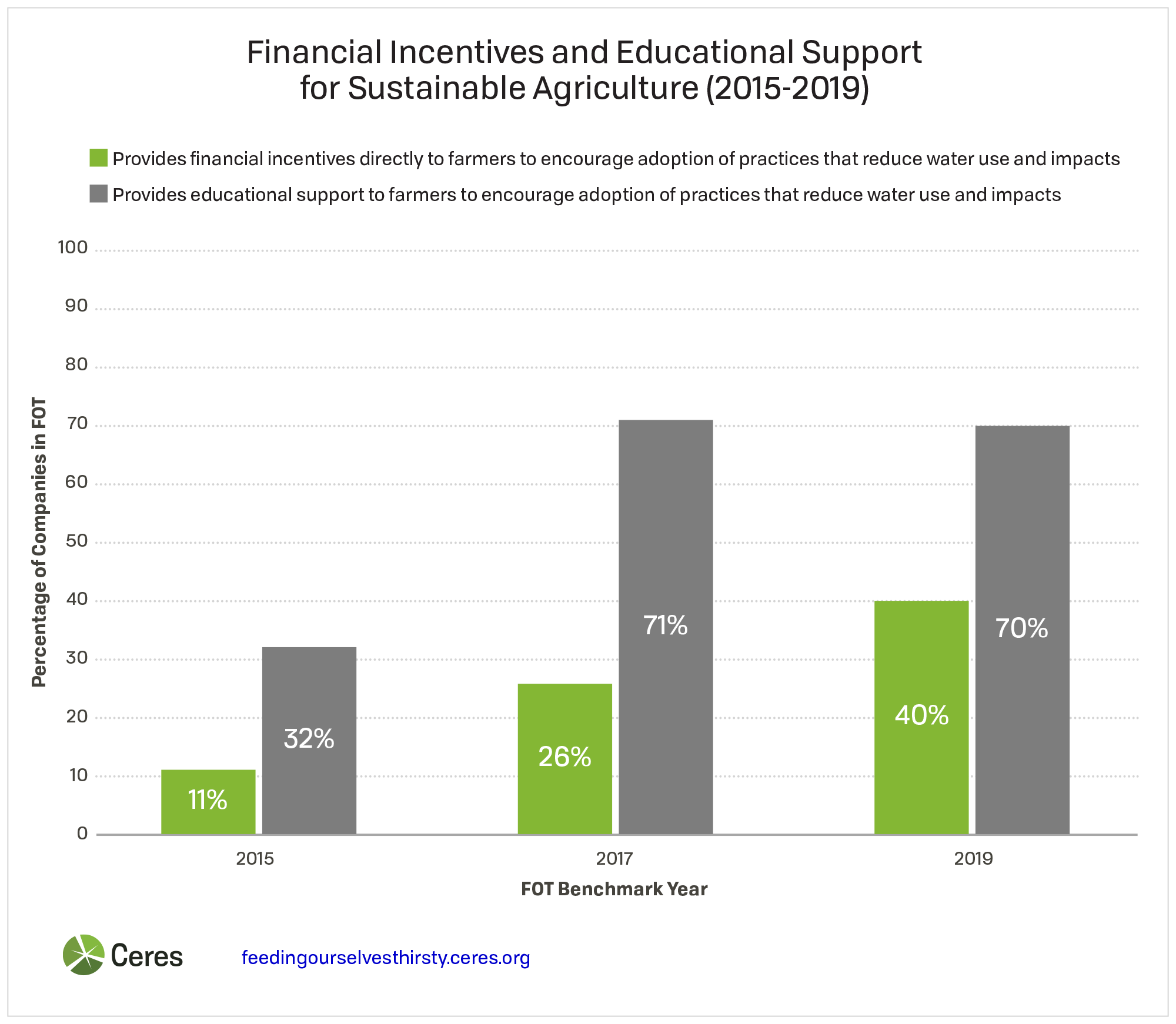 While a strong majority of companies are providing some level of educational support to growers through agronomic tools and advising and training programs, less than half provide financial support to growers. Premiums, subsidies and low-interest loan programs are some of the instruments used to encourage adoption of agricultural practices that use water more efficiently and reduce nutrient runoff from fertilizer.
Citing the financial benefits of soil health, Smithfield Foods provides farmers with a discounted price on premium wheat seed to encourage them to plant winter wheat as a cover crop. Through SmithfieldGro, staff agronomists travel to grain farms in the Southeast and Midwest to demonstrate strategies to improve fertilizer usage and crop production. The program also provides farmers with Adapt-N, a nitrogen management technology which can increase grower profitability while reducing GHG emissions and nitrogen runoff.
Bunge partnered with Banco Santander Brasil S.A. and The Nature Conservancy to develop a financing mechanism to reward soy farmers in Brazil who commit to produce without deforesting land or converting native vegetation. Farmers making these commitments are eligible for loans of up to 10 years, while most loans currently available to soy farmers have terms of a year or less.
In 2018, Molson Coors launched a program that will provide $2 million in premiums to barley producers who prioritize sustainability.
Archer Daniels Midland has committed to providing a lump-sum or premium incentive to any farmer who participates in its sustainable agriculture programs for parts of its U.S.-based corn, wheat and soybean acres. The programs encourage specific practices such as cover cropping and optimization of fertilizer application, as well as the use of farm management software to measure and track soil health and water quality.
Sustainability and procurement
Corporate procurement teams are responsible for ensuring the quality and security of ingredient supplies while minimizing costs and price volatility. They therefore play a critical role in ensuring that companies have ongoing and sustainable access to key inputs. Yet, 70% of the companies analyzed are not integrating sustainable-sourcing commitments and priorities into internal procurement processes. Companies can take the following steps to do so:
Train buyers on the company's sustainable-sourcing strategies and task buyers with communicating sustainable agriculture expectations to suppliers and incorporating these expectations into contracts.
After mapping its extended supply chain, Mars Inc. has developed strategies to reduce water use in stressed watersheds. Mars provides training on these strategies to its procurement teams for rice, tomatoes and mint, and embeds sustainable agriculture expectations into supplier contracts.
Embed employees with sustainability expertise on procurement teams, or integrate the two departments entirely.
Campbell's has created two formal positions that integrate sustainability and procurement, including a Director of Responsible Sourcing who has sustainability expertise and reports to the Chief Procurement Officer.
The former Chief Sustainability Officer at Mars Inc. is now the Chief Procurement and Sustainability Officer.
Develop protocols for verifying sustainable-sourcing claims and remediating supplier non-compliance.
Kellogg's supplier scorecards evaluate suppliers' adherence to the company's responsible sourcing expectations, including those for sustainable agriculture. When suppliers fail to meet these expectations, Kellogg's will work with them to develop corrective action plans.
Collective action at the watershed level
Many companies still limit their investments in water risk management to improving facility-level water use efficiencies. While these efforts are important, even achieving best-in-class water use efficiency may not be sufficient to mitigate the physical, regulatory or reputational risks resulting from the broader mismanagement of local water resources. A narrow operational focus may also overlook lower-cost, higher-return opportunities to work collaboratively to reduce risks through activities that protect and restore watersheds.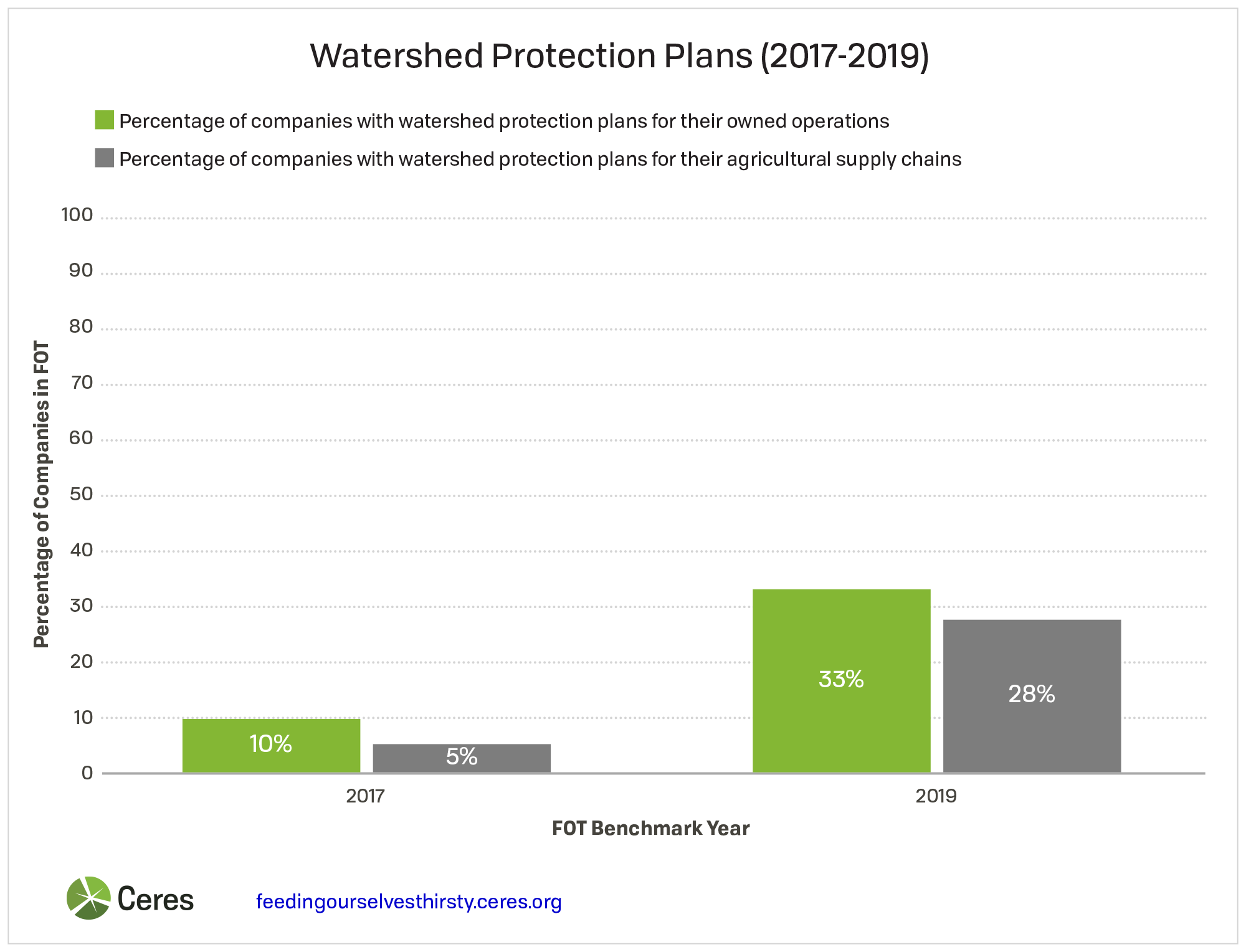 While more companies are now collaborating to address challenges at the watershed level, the majority still lack these plans. Leading companies leverage findings from risk assessments to identify the basins with the highest risks and partner with stakeholders around shared goals to tackle relevant challenges.
General Mills has a goal to develop multi-stakeholder water stewardship plans for its value chain's high-risk watersheds by 2025. The company chose eight watersheds to focus on after conducting a water risk assessment of its sourcing regions.
The Midwest Row Crop Collaborative creates partnerships between farmers, environmental groups and food companies to protect watersheds throughout Nebraska, Illinois and Iowa. The group has pooled resources to expand practices that reduce nutrient runoff into the Mississippi River basin. Participating companies include Cargill, General Mills, Kellogg, PepsiCo and Unilever.