Quick Facts
Total Water Use (Gallons)
145.9bn
Average Score
↑
or
↓
since 2015
+5
Average Operational Water Efficiency (Gallons/$ Revenue)
0.43
The packaged food industry, which includes household brands that consumers know and love, is the highest performing industry in this analysis with an average score of 37 out of 100. While the packaged food industry includes many leaders, there is a significant range in performance, from a high of 82 points to a low of 9 points.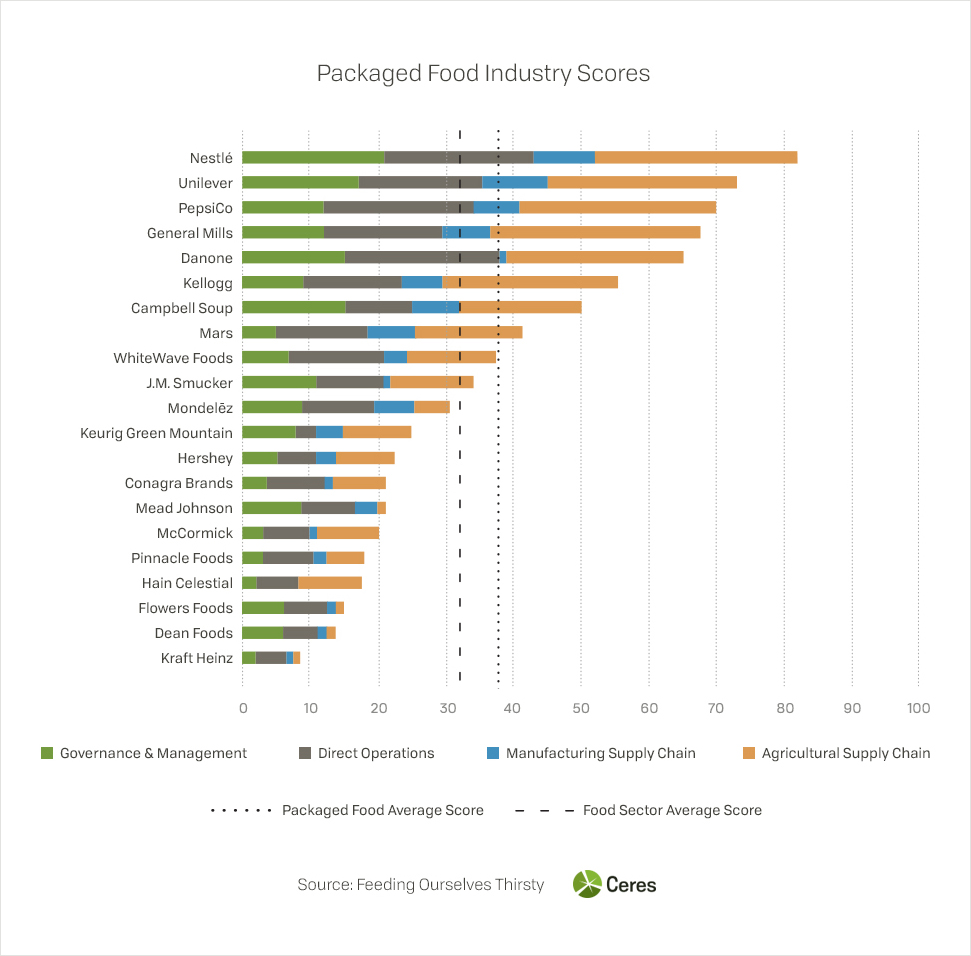 Areas of Strength
Risk Assessments:
Companies in this industry are expanding the quality and scope of water risk assessments, with half of the companies showing improved performance in this area. Eight companies, however,  have not yet undertaken an assessment of the water risks they are exposed to in their agricultural supply chain.
Water Targets:
Ninety percent of companies in the packaged food industry have time-bound targets to reduce water use. PepsiCo and Unilever are the only companies that have taken this a step further by setting targets that are more aggressive for higher risk locations.  
PepsiCo has committed to work with its agricultural suppliers to improve the water-use efficiency of its direct agricultural supply chain by 15 percent by 2025 in high water risk sourcing areas.
Water Accounting:
Disclosure of water accounting data has become the new normal in the food sector with 90 percent (19) of companies collecting basic water accounting metrics within their operations.
Business Planning and Strategy:
70 percent (15) of companies have begun to incorporate water risk into major business planning activities, such as acquisitions, capital investments, siting of facilities and diversification of product line away from water intensive inputs.
Kellogg factors water resource considerations into location planning for new operations and site expansion, and evaluates localized water risks as a part of the site selection process for new facilities in order to ensure the water security of these locations and to position the company for growth in these areas.
Senior Executive Oversight:
62 percent (13) of the companies in this industry have strong executive oversight over water, identifying an individual internally who either reports directly to the CEO or sits on the executive committee.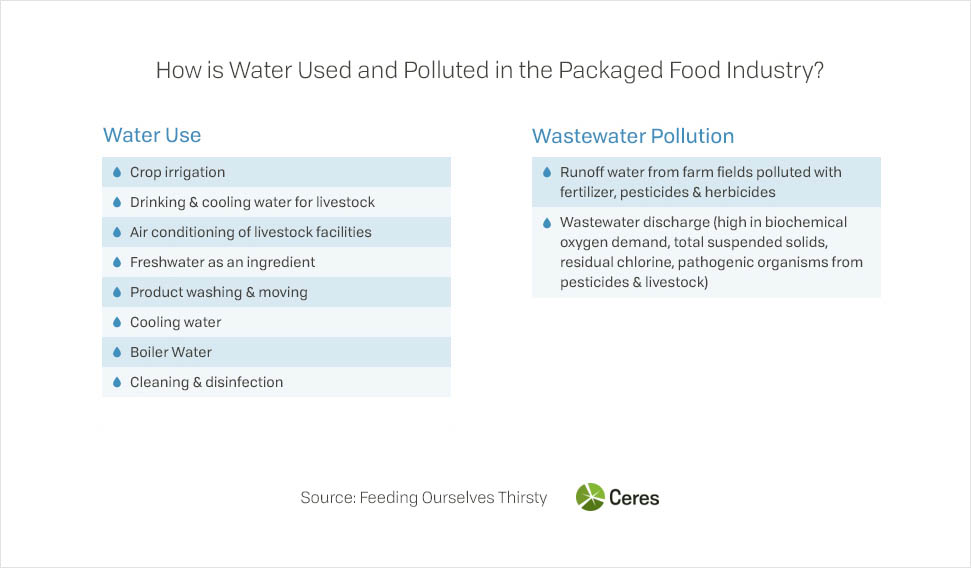 Areas for Improvement
Governance:
Forty percent (9) of packaged food companies lack strong board oversight over sustainability and water, and only two companies (Campbell's and Nestlé) regularly brief their board on water-related issues.
Translating Water Risk into Financial Terms:
Only two packaged food companies (Nestlé and Unilever) use approaches or tools to understand their water-related financial risk exposure or revenue at risk.
Sustainable Sourcing Goals:
While 75 percent (16) of packaged food companies have set goals to source some of their commodities sustainably, only five (General Mills, Kellogg, Nestlé, PepsiCo and Unilever) have set goals for the majority of their agricultural inputs. Furthermore, many companies in this industry are not disclosing how they are defining and measuring performance against these goals with 40 percent (eight) providing this level of disclosure for at least some of their key agricultural inputs and only four (General Mills, Kellogg, PepsiCo and Unilever) doing this for all of their key agricultural inputs.
Alignment Between Sustainability and Procurement Function:
More than half of the companies in this industry – 60 percent (13) – are not effectively integrating public-facing sustainable agriculture policies, supplier codes and goals into internal processes, nor leveraging them to train and incentivize buyers.
Engagement with Growers:
While about 75 percent (16) are providing educational support to farmers to encourage more sustainable practices, most companies are not doing this at scale. Forty percent of companies  (8) are providing some sort of financial incentive, such as interest-free loans for equipment or IT solutions, premiums paid to producers or purchase guarantees to offset the risk of trying new farming practices.