Quick Facts
Total Water Use (Gallons)
142.4bn
Average Score
↑
or
↓
since 2015
-1
Average Operational Water Efficiency (Gallons/$ Revenue)
0.90
The beverage industry, which faces significant reputational and license to operate risks associated with its water use, is the second-highest performing industry, with an average score of 36 out of 100. While the beverage industry includes many leaders, there is a significant range in performance, with a high of 72 to a low of 0 points.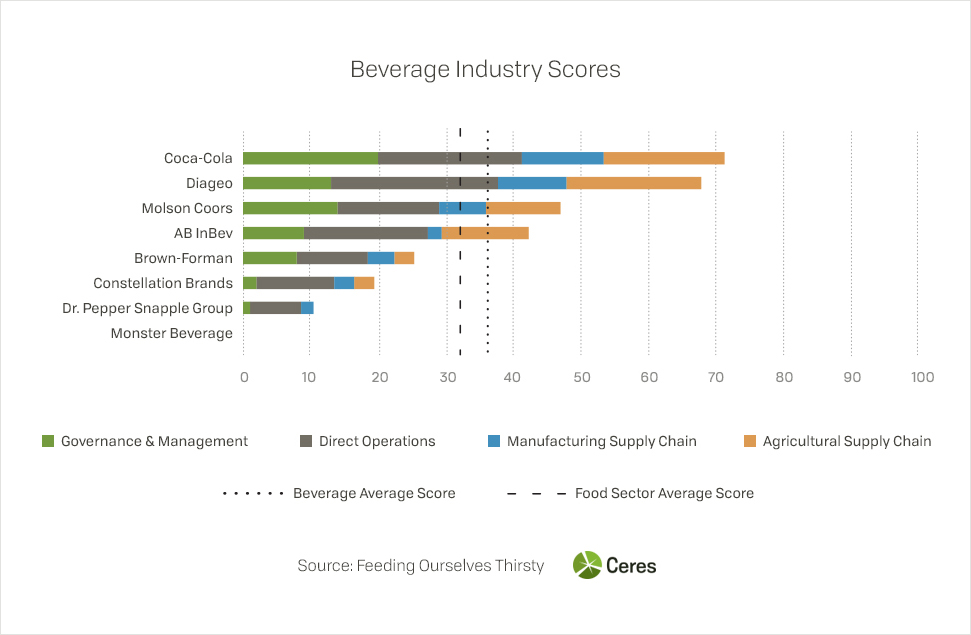 Areas of Strength
Water Accounting Metrics:
All but one of the beverage companies evaluated (Monster) are collecting and disclosing data on operational water use.
Water Risk Assessment:
All but one of the beverage companies (Monster) have evaluated exposure to water risks in direct operations, and most have also assessed water risks in either manufacturing or agricultural supply chain. 
Operational Water Targets:
Five of the eight companies (ABInBev, Brown-Forman, Coca-Cola, Diageo, Molson Coors) have established water efficiency targets for their direct operations and of these, two (Diageo and Molson Coors) have set risk-differentiated targets.
In 2013, Molson Coors moved from an "across the board" approach on water to a risk-based one, targeting improvements in water use and wastewater management in the breweries where it faces the most risk.
Engagement with Manufacturing Suppliers:
Four of the companies in the beverage industry (Brown-Forman, Coca-Cola, Diageo, Molson Coors) collect data from manufacturing suppliers and three (Coca-Cola, Diageo, Molson Coors) require direct suppliers to have a water management program that goes beyond compliance, imposing comparable standards on their suppliers.
Coca-Cola has a system-wide water resources sustainability corporate standard that requires all of their company and bottling partners to evaluate the sustainability of water resources used to produce their beverages as well as the water resources used by the local community. As a part of this standard, all plants are required to form a water management team, work with water resource experts to complete a source vulnerability assessment, and prepare, implement and maintain a source water protection plan.
Diageo asks top suppliers to become members of the CDP Supply Chain Water program and complete the CDP Water questionnaire, sharing information on their water use accounting, response to water-related risks and targets and goals specific to water use in their operations and supply chains. Information gathered is being used by the company to augment their water risk assessment process, to identify suppliers that are most at risk to water-related challenges and prioritize them for engagement through supplier outreach programs.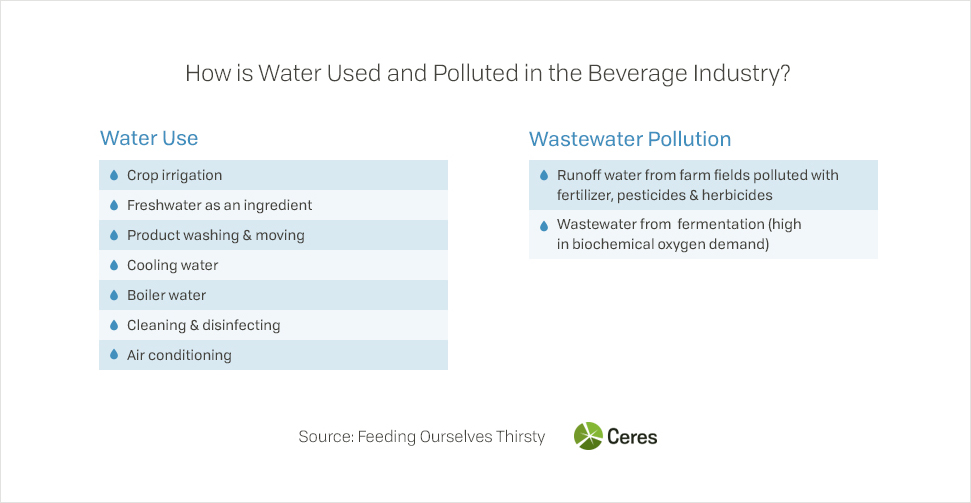 Areas for Improvement
Governance:
Four (Brown-Forman, Constellation, Molson Coors, Monster) of the eight beverage companies evaluated have not yet established strong board oversight for sustainability and water. Coca-Cola and Diageo are the only companies whose boards are regularly briefed on water-related risks. Only three companies (ABInBev, Coca-Cola, Molson Coors) link water to compensation for executives.
Coca-Cola's board is identified as having the highest level of direct responsibility for water issues. The Public Issues and Diversity Review is the board committee that oversees the company's position on sustainability, corporate social responsibility and public issues of significance as well as reviewing the company's progress toward achieving sustainability goals. Coca-Cola's Chairman, Board of Directors and other company leadership are routinely briefed on water risks, strategy, goals and management plans.
Alignment between sustainability and procurement function:
Only three (Coca-Cola, Diageo, Molson Coors) of the eight companies in this industry have a sustainable agriculture policy that explicitly references water risk and defines the principles of sustainable sourcing. Only three of the beverage companies (ABInBev, Coca-Cola, Molson Coors) are effectively integrating public-facing sustainable agriculture policies, supplier codes and goals into internal processes, and leveraging them to train and incentivize buyers.
ABInBev factors sustainability into procurement directives, providing guidance to suppliers on agricultural ingredients through its sustainable agriculture guiding principles. These principles are being integrated into the company's internal governance routines and procurement processes.
Engagement with Suppliers:
Four of the companies (ABInBev, Coca-Cola, Diageo, Molson Coors) provide some form of educational support to farmers and two ( Coca-Cola and Diageo) also provide educational support to direct suppliers, yet many examples are not at scale and only two companies (ABInBev and Diageo) provide financial incentives to growers.
Diageo has various farmer capacity programs that enhance their access to inputs, support better yields and encourage sustainable practices such as crop rotation, efficient water management and soil conservation. In addition to training farmers on effective agricultural practices, the company provides farmers with access to capital through micro-loans.