Quick Facts
Total Water Use (Gallons)
336.5bn
Average Score
↑
or
↓
since 2015
-1
Average Operational Water Efficiency (Gallons/$ Revenue)
3.02
Agricultural products is the second-lowest performing industry, with an average score of 18 out of 100. Companies in this industry are involved in the production, sourcing and processing of cereal grains such as corn, wheat and soy, as well as a range of water-intensive fruits, nuts and vegetables.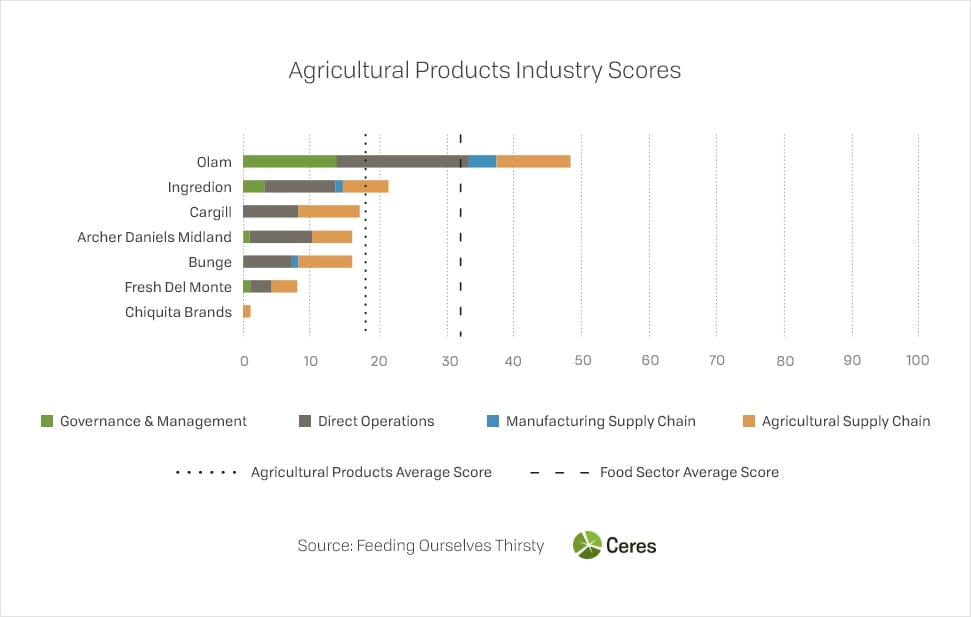 Areas of Strength
Risk Assessments:
The industry appears to be taking water risk more seriously, with three companies (ADM, Cargill and Ingredion) improving their score in this area. Five companies (ADM, Bunge, Cargill, Ingredion, Olam) have assessed risks to direct operations and have broadened their analysis to include supply chain risks, although on very a limited basis.
Board Oversight:
Four of the seven companies analyzed in the agricultural products sector—Bunge, Fresh Del Monte, Ingredion and Olam—disclose board-level oversight of sustainability issues and reference sustainability explicitly in their board charter.
Water Targets:
Six of the companies have set targets to reduce water use in their direct operations and two of these—Bunge and Olam—have set risk-differentiated targets that are more aggressive for water-stressed locations.
Bunge has a goal to reduce water use by 10 percent overall and 25 percent in high water stress regions in 10 years.
Olam has set various water targets including a goal to reduce surface and groundwater used by 10 percent by 2020, to reduce process water intensity in the company's tier 1 factories by 10 percent by 2020 and a target for 100 percent of Olam's direct operations in high water risk areas to participate in watershed protection programs by 2020.
Engagement with Growers:
Six of the companies are collecting data from growers and providing them with educational support, although in all cases the scale of this data collection is quite limited.
Olam trains farmers to develop water management plans that mitigate risk and minimize adverse impacts on water supply. In 2016, they reached over 100,000 smallholders with water conservation education. Olam has used data collection to track performance against the company's water reduction target which has resulted in a reduction of water use of 20 percent and an increase in productivity of 15 percent.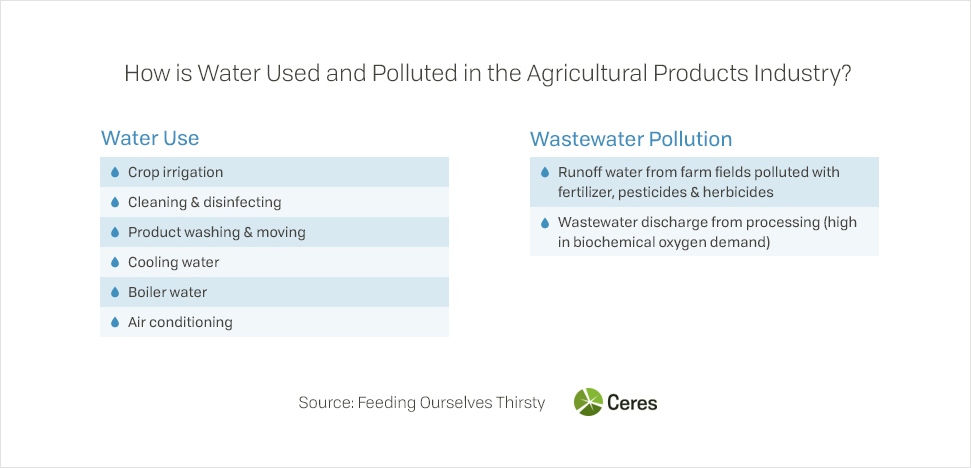 Areas for Improvement
Governance:
Three companies (Cargill, Chiquita, Archer Daniels Midland) lack board oversight over sustainability and water, and only one company (Olam) has strong senior executive oversight, identifying an individual internally who either reports to the CEO or sits on the executive committee. None are linking management of water risk to executive compensation.
Procurement:
Four of the companies (Bunge, Cargill, Chiquita, Fresh Del Monte) lack a publicly available supplier code communicating expectations that suppliers maintain environmental regulatory compliance.
Sustainable Sourcing Goals:
Cargill and Ingredion stood out by setting time-bound goals to sustainably source some of their major commodities yet none of the companies are doing this for the majority of their agricultural inputs and none have begun to define and measure performance against their goals.
Engagement with Growers:
While six of the companies are providing some level of educational support to growers, as well as collecting farm-level data, in most cases this is not at scale and includes ad hoc efforts that are not necessarily focused on the most at-risk locations. None of the companies disclose providing financial incentives directly to growers to improve practices.