The Colorado River Basin extends into seven states, provides water to almost 40 million people, and supports a $5 billion agricultural industry — yet, the basin recently suffered its 20th year of drought conditions. This historic period has not only affected the lives of the 1 in 10 Americans that rely on the river, but also holds serious implications for the current and future state of agriculture.
Agriculture uses approximately 80% of Colorado's water withdrawals to irrigate 15% of the nation's farmland, the equivalent of 6 million acres of farmland. Wheat, corn, berries, fresh produce, and alfalfa (a primary form of cattle feed) are likely to be particularly strained by supply rationing to manage water-stress. The growth in food production to meet the burgeoning population, coupled with human consumption and extreme weather events are?is placing an increasing demand on the basin's limited supply — and more pressure on local farmers, consumers, and companies to adapt to the region's water scarcity.
Companies and investors have a unique opportunity to respond to water risks in their operations and supply chains near the Colorado River Basin, advocate for sustainable and resilient water policies, and ensure sustainable management.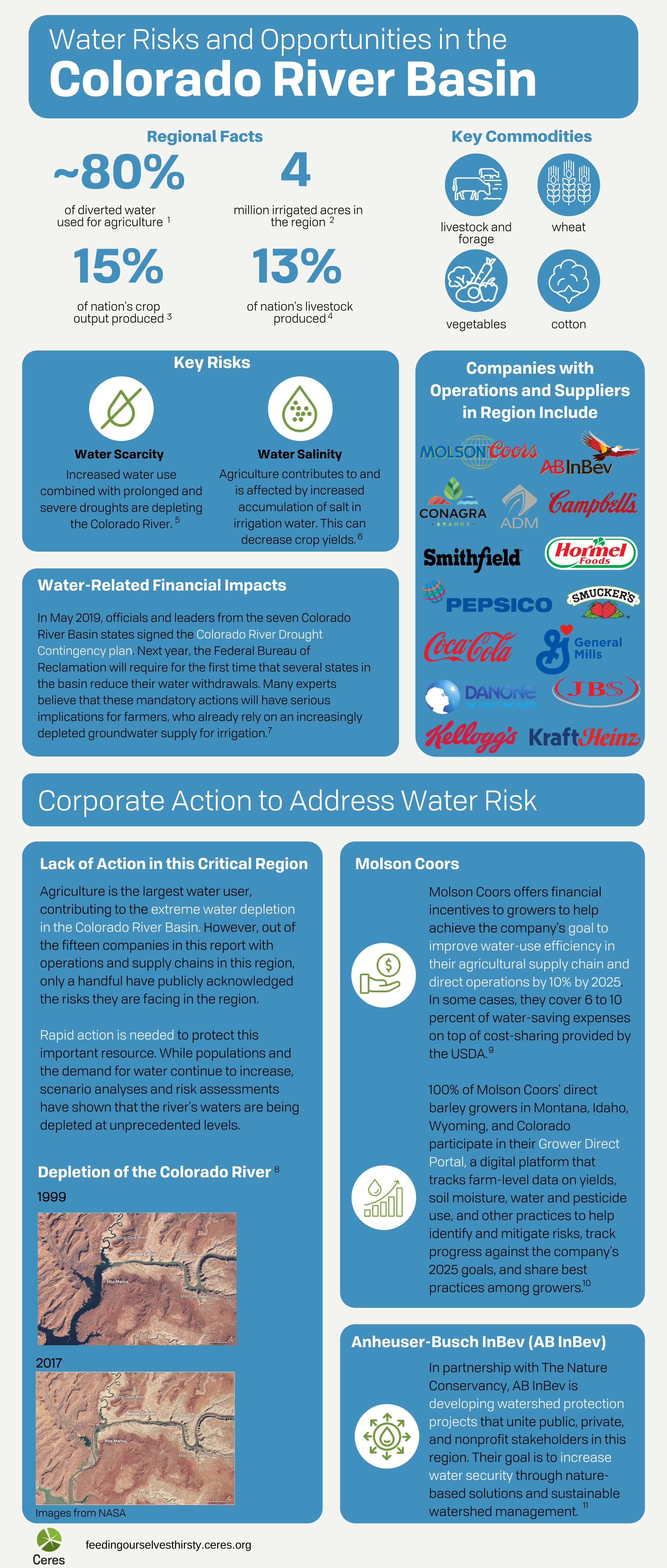 [1] Maupin, Molly, et al.. "Estimates of water use and trends in the Colorado River Basin, Southwestern United States, 1985–2010." U.S. Geological Survey (USGS), 26 June 2018, https://pubs.er.usgs.gov/publication/sir20185049.
[2, 3,4] Citron, Aaron. "The Colorado River Basin Can't Afford to Leave Farmers out to Dry." Growing Returns, Environmental Defense Fund, 24 July 2014, http://blogs.edf.org/growingreturns/2014/07/24/the-colorado-river-basin-cant-afford-to-leave-farmers-out-to-dry/.
[5] Zielinski, Sarah. "The Colorado River Runs Dry." Smithsonian.com, Smithsonian Institution, 1 Oct. 2010, https://www.smithsonianmag.com/science-nature/the-colorado-river-runs-dry-61427169/.
[6] Morford, Scott. "Salinity in the Colorado River Basin." Education at the Center for Watershed Sciences, University of California, Davis, n.d., https://watershed.ucdavis.edu/education/classes/files/content/page/6%20Morford-Colorado_Basin_Salinity.pdf.
[7] Fleck, John. "What the Colorado River Drought Contingency Plan Means in Practice." Jfleck at Inkstain, 21 May 2019, http://www.inkstain.net/fleck/2019/05/what-the-colorado-river-drought-contingency-plan-means-in-practice/.
[8] Runyon, Luke. "Colorado River Managers See A Possible Future And It Doesn't Look Pretty." KPBS, KPBS Public Media, 29 June 2018, https://www.kpbs.org/news/2018/jun/29/colorado-river-managers-see-possible-future-and-it/.
[9] Wolfshohl, Karl. "Brewing Up Water Savings." Progressive Farmer, vol. 133, no. 7, June 2018, pp. 16-18, https://www.millercoors.com/sites/millercoors/files/Progressive_Farmer_June_2018.pdf.
[10] "Growing Best Practice in Agriculture." MolsonCoors, n.d., http://www.molsoncoors.com/en/sustainability/sustainably-brewing/agricultural-supply-chain.
[11] Soko, Kim. "A-B InBev: How a Global Brewer Is Setting the Bar for Innovation in Local Water Conservation." Sustainable Brands, 9 Nov. 2015, https://sustainablebrands.com/read/leadership/a-b-inbev-how-a-global-brewer-is-setting-the-bar-for-innovation-in-local-water-conservation.